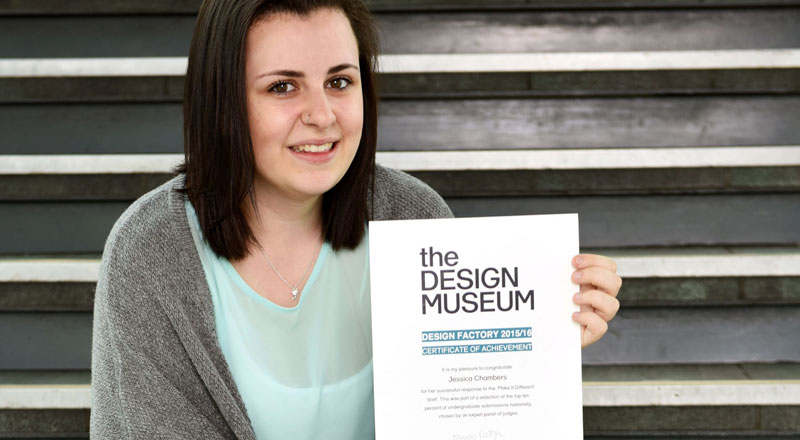 2nd year Product Design student Jess Chambers' Safe Sanitation project was selected to be showcased at the Design Museum's Design Factory Symposium.
The museum, which is devoted to contemporary design, annually sets a challenge to degree design students to help promote the museum as an essential resource for research and practice.
Jess' idea and design for the Prive Cube, a toilet for use in Third World Countries, was among entries selected to take part in the symposium at the London museum, chosen by design industry experts. Her design was inspired by a past trip to Gambia with the Affecting Real Change charity.
Jess said: 'I am interested in designs which can help to make lives easier for people, after being inspired by a company's designs to take tablet computers into African schools to help children learn. This inspired me to design something which would help to make life at school easier for children living in Africa.
'My initial research revealed that sanitation was one of the main issues why children in the Gambia missed school. I also discovered that one in three people in Africa are unable to use a public toilet safely as they are at risk either from sexual assault or attacks by an animal, due to the design of some toilets with many not having a lock. It is a shocking statistic.
'Toilets in use are often nothing more than a metal hut, which is not very secure. There is also additional issue that there is not often a lock, or the lock is often the outside.'
As part of her research, Jess spoke to the Affecting Real Change charity, which is involved in projects in Africa and India with schools and communities to help improve everyday life. This led Jess to focus on security as a key issue, along with ensuring the toilets would be suitable for use by both genders.
Jess said: 'The main issues I found with the current toilet design were sanitation and security, which I used as the basis of my design and to provide users with safe sanitation.'
She received a certificate in recognition of her design idea.