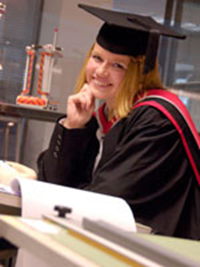 Teesside University Product Design graduate Jannicke Rogne, was part of a team that recently won a professional runner up award for social impact in the Core77 2013 Design Awards working for Norwegian organisation Design Without Borders.
Jannicke worked with her team in Guatemala designing and developing a pediatric wheelchair  customised to the needs of children in Guatemala, in partnership with Guatemalen charitable foundation Transiciones. Transiciones, who manufacture low cost wheelchairs for marginalised social groups, lacked a wheelchair targeted towards children in its product range. The needs of a Guatemalan users and the local challenges of poor infrastructure, availability of materials, production facilities, costs and ergonomics were taken into the design process.
The project was also aimed at transferring knowledge about design methodologies, to enable the highly skilled technicians at Transiciones to customise wheelchairs more efficiently and continue to design new models.
Jannicke, along with her team, returned to Teesside recently to give an inspiring and thought-provoking talk about the project and how they had changed people's lives.
For more information click here: Norsk Form | About Design without borders