By Connor Marsden Year 3 student:
Each year, the third year product design students at Teesside inherit the New Designers society.  This group of students is primarily a means to organise fundraising activity for the New Designers stands at the end of the academic year.  Three students this year have taken on key roles within the Society.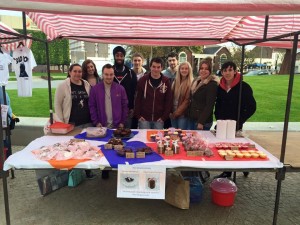 Tim Hargreaves, Lawrie Ward and Ffion Crowhurst have each taken the positions of Chairman, Treasurer and Secretary, respectively.  Their task this year is to organise events and manage the society as we being to raise funds for our stand at New Designers 2016, next summer.  With the new construction and developments around the University – Not least of all the Curve – Campus Heart is a hive of activity.  This gives us an excellent position to organise fundraising activities for the New Designer's fund.
So far, the society has held a number of small events – bake stalls, cake stands and the like.  On the evening of Halloween, a group of us also partook in a sponsored hike.  Many attended in fitting Halloween attire, to the bafflement of every other hiker we passed along the way.    The trip began at the foot of Highcliff Nab, one of the cliffs overlooking Teesside and the surrounding area.   The trek then began through the moorlands, and on to to Captain Cook Monument above Great Ayton.  The weather was unseasonably pleasant, and by the fourth hour we reached the base of Roseberry topping.  The hill itself is one of the tallest in Northern Yorkshire, with a magnificent view for miles around.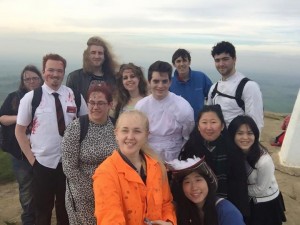 Though the trip was almost non-stop, we managed the reach the topping – and in doing so, raised a considerable sum towards our New Designers stand.  As Christmas is approaching, we've taken some time to brainstorm new ideas for more events up to and after the New Year.  Some of our members have taken the time to begin crafting Christmas gifts, and touch up their model making skills while doing so!