Learning and Teaching Enhancement Conference – 25th and 26th March 2021
Promoting Student Engagement for Retention and Success
Attention Students! Our annual Learning and Teaching Enhancement Conference will be taking place in March and we would like to invite you to attend.
Please see below for more information about the student session with Cal Halbert from Hilarity Bites. This session will take place 11.15am-12.15pm on Thursday 25th March via MS Teams, and you can book by clicking here and selecting student session- Conference Booking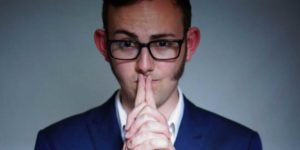 This session will cover Cal Halbert's background in media and presentation delivery. Specifically looking at the delivery of presentations, radio, podcast, event, and video presentation.
The session will look at mic techniques, times to use outsider voicing, tones, details.
There will also be a Q and A session where he will answer any questions he can!
Cal is an Impressionist, Comedian, Actor, Host and Voice Over Artist. Cal Halbert is also one half of 'The Mimic Men'. The UK's only impressionist double act! Performing on Britain's Got Talent in 2016 and gaining four yeses accompanied by a standing ovation by the judges, audience and Ant and Dec.
Cal has worked with Audi, Santander, BBC, ITV and YouTube. Corporate holiday parties, and local private parties, Cal Halbert's high-energy interactive entertainment is sure to bring — not just fun — but professionalism and experience to your event.
Testimonials
Brilliant- Some really original impressions in there, some I've never seen be done before – You guys are brilliant – David Walliams – Author, Actor, Presenter
Cal is professional, skilled, slick, and not easily phased by any event, large or small. Whether as a solo stand-up, presenter, after-dinner speaker or as one half of the Mimic Men, Cal is reliable and dependable for any event – from a Friday night comedy club to a family variety show! – Elliot Clarke – MD at Clear and Loud PA Hire
Details on our other External Speakers at the conference can be found below:
Attention Students – Join our Learning and Teaching Enhancement Conference