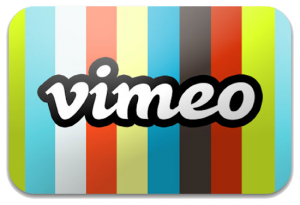 We're very pleased to announce that you can now add videos from Vimeo via the Mashup tool into your module!
The mashup tool greatly streamlines performance and lets you get videos directly into your module with very little effort. Blackboard has had the facility to add videos from YouTube for some time now but it's only recently that we've been able to extend this to Vimeo users.
How Do I Do This?
Log into Blackboard, go to your module, and navigate to where you want to place the video
Ensure Edit Mode is on (top right hand corner of the page)
Hover your mouse over Build Content and select Create Item
Give the item a Name
Click on Mashups and select Vimeo Video from the list
A pop up window will appear, allowing you to search for a video. There are search options available through the drop down boxes (such as "Contains" or "Starts With") to help you locate the most appropriate video
Click on Go to start the search
From the list of results, you can Preview a video to make sure it's what you want. When you have located the best choice, click on Select
Your video will now appear as a yellow box in the text box editor, along with the web links below the video. If you so desire, you can remove the web links or add supporting text
Click on Submit
What is Vimeo?
Whilst YouTube is often described as being more popular, Vimeo is sometimes thought of as having more discerning viewers. It performs in a very similiar way to YouTube – people can upload their own videos for others to view and comment on. Like YouTube, Vimeo "serves up" content depending on the user's platform. It is traditionally thought that comments in Vimeo tend to be more constructive and supportive than those often encountered on YouTube. Vimeo also has a host of security features which are certainly more comprehensive than YouTube.
Vimeo Mashups Now Available!