The mass amount of information available online today makes it increasingly difficult and time-consuming to find the exact content that we want. Filtering through the content to find valuable resources is not an easy task. This is where content curation services can help you out.
So what exactly is content curation? Put simply, it's a process of sorting through the vast amounts of content on the Web and presenting it in a meaningful and organised manner, focused around a specific theme or interest.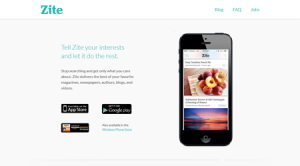 Services such as Zite, Scoop.it, Paper.li, BagTheWeb and Pearltrees have all emerged as a result of the 'content abundance' that we're seeing on the Web. This is primarily due to user-generated content from social networking sites, blogging platforms and video sharing sites. A content curator essentially "cherry picks" the most valuable content and presents it in a more personalised manner.
These services have become valuable tools for journalists but their uses in education are certainly not limited. They can prove to be extremely useful for gathering content about a certain topic and could even be useful for research purposes.
Content is refreshed daily and in some cases on an hourly basis. It still requires a little bit of work on your behalf – you need to remember to look at your service and also tell it initially what to look for. You can do this by providing keywords and also hooking up your social media accounts (Twitter, Facebook etc) so that it can discover what you're interested in. As an example, you could provide keywords which are associated with your subject area or module and then see what results are returned. One word of caution though – if you're using a service for academic purposes, you might not want to connect your personal social media profiles, for obvious reasons!
You can also "train" the services to become more personalised over time. Zite, for example, contains articles which have a buzz – i.e. they're popular on the Web at the moment or are being discussed on Websites, blogs and social media services. You can give the "thumbs-up" or "thumbs-down" to selected articles, which in turn helps the service to determine what content you like and dislike.
Most of the services also have accompanying mobile apps, so you can get the content delivered directly to your mobile device at any time of the day.
Here's a quick overview of the services mentioned above:
Zite

Zite is a mobile app, available for iOS, Android and Windows Phone devices. Dubbed as an "intelligent magazine", Zite delivers the best of your favourite articles, newspapers, magazines, blogs, authors and videos. Simply tell it your interests and let it do the hard work. The more you use it, the more it learns about your interests and therefore the content delivered is more tailored to you.
Web or Mobile: Mobile Only – for iOS, Android and Windows Phone
Paper.li
Paper.li pulls together content from various social media sites and other online sources, then publishes it in an easy-to-read online newspaper format. You select the content sources – add your Twitter, Facebook and Google+ accounts, as well as RSS and YouTube feeds, then prioritise them and add filters to best suit the type of news you want. Other content from across the Web is also supported. There are various customisation options to help you make the newspaper your own, and the responsive design means that your published newspaper looks great on a wide range of devices.
Web or Mobile: Both (no separate mobile app needed due to responsive design)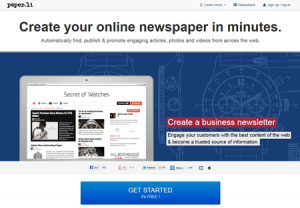 Scoop.it

Very similar to Paper.li. You start by entering a topic name and telling it what you're interested in by giving it some keywords. An online newspaper will be generated from content around the Web which is relevant to your keywords. There are supporting mobile apps and various browser tools available so you can quickly add interesting content that you might find on the Web to your newspaper simply by clicking a button.
Web or Mobile: Both – separate mobile app available for iOS and Android
BagTheWeb

BagTheWeb allows you to create "bags" – described as a hybrid media container which allows you to organise the content and links you find the most interesting. Bags are focused on a specific topic and you can curate content from social media sites, as well as being able to embed rich media from various sources such as TED.com, YouTube and Slideshare.
Web or Mobile: Web only (no separate mobile app although will display on some devices)
Pearltrees

Pearltrees lets you collect Web pages, photos and notes about the things you like and organise them as you please to cultivate your interests. You can also set it so that links shared on Facebook and Twitter are automatically added as "pearls" to your Pearltree library. Really easy to use and organise your content in a visual format.
Web or Mobile: Both – separate mobile app available for iOS and Android
Content Curation Services