Congratulations to Dr Lee Copping – we are pleased to announce that your module – 'Conducting Research in Psychology' (PSY2065-N-BF1-2021) – has been nominated by your students and has won the semester 1 Digital Excellence: Blackboard Ultra Award, run by SLAR.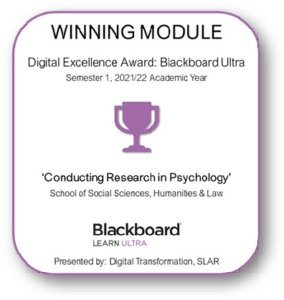 The Digital Excellence Award seeks to surface and share innovative practice in digital teaching excellence through high impact use of the Blackboard Ultra VLE enabling transformational digital practice on the VLE. 
The Award gives students the opportunity to nominate exemplary Blackboard Ultra modules each semester and highlight what it is that makes these modules stand out. 
Congratulations once again. 
Ann Thanaraj and Paul Durston 
SLAR 
Digital Excellence Award: Winner