We are delighted to bring you a series of six Creative Campus Live sessions with Adobe.
Our first session "Equipping Students With Skills To Thrive" is on Thursday 25th February 2021 at 12-1pm.
Are you are looking at ways to embed creativity, collaboration and a variety of skills into your curriculum and assessments to prepare your students for the changing professions and industries? These sessions are for you.
Details to follow.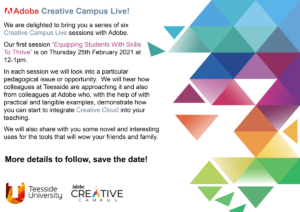 For more information, please contact eLearning@tees.ac.uk
Adobe Creative Campus Live!