Teesside University
Learning and Teaching Conference – 5th March 2020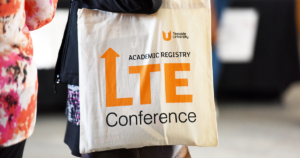 Enhancing Student Success for Education 4.0
Students and staff book you place now
Teesside University's 2020 Learning and Teaching Conference provides a platform to showcase examples of institutional and practice-level innovations that optimise student success for Education 4.0. Student access to academic resources and wider support throughout the student journey, retention on and completion of programmes of study, and progression and the cumulative achievements in and beyond higher education are all recognised as integral elements of student success. Success in each of these areas depends on the extent to which students are engaged, and their belonging is fostered both through inclusive curricula and wider institutional services across the whole student life cycle.
The conference will showcase practice innovations covering:
Institution-wide initiatives taking a broader view of student success across the student life cycle – e.g. student mental health and wellbeing, personal academic tutoring and support.
Curriculum / practice-based initiatives focusing on innovations in student engagement across classroom-based, online and international provision.
Inter/multi-disciplinary initiatives spanning disciplines, Schools and/or services with the aim of enhancing student academic engagement and success.
To view the conference schedule and book your place, please follow this link: https://www.eventbrite.co.uk/e/learning-teaching-enhancement-conference-2020-enhancing-student-success-for-education-40-tickets-95410941695
Booking is now open: Teesside University Learning and Teaching Conference 2020