In 2012 the LTE team started to look at how mobile devices could be used to enhance the learning and teaching experience at Teesside University. At a time when mobile devices such as smartphones and technology use had started to become ubiquitous, we had done very little to see where or, indeed, if mobile devices could fit within our learning and teaching strategy. By the beginning of 2013 both Apple and Google had released tablet devices with screens considerably larger than smartphones. There was also a growing number of available software applications and increased infrastructure support (mobile device management, eduroam, etc) to make the devices viable in an educational context.
By this point our colleagues at York St John University had already set up their own 'iPad Project' to explore the use of tablet devices. After contacting them to see if they could offer us some guidance, we were invited to visit them to talk about their journey. The team at York St John very kindly shared all of their experiences of getting the iPad Project off the ground, from the practicalities of storing, charging and updating the devices to getting academic staff on board and eager to use the devices in their teaching.
Armed with a plethora of information, we returned to Teesside, decided on the direction we would go and talked to academic staff about the kind of things they would like to see supported by the LTE team. A small group of keen volunteers was assembled and we decided to follow York St John's lead and go with iPad devices.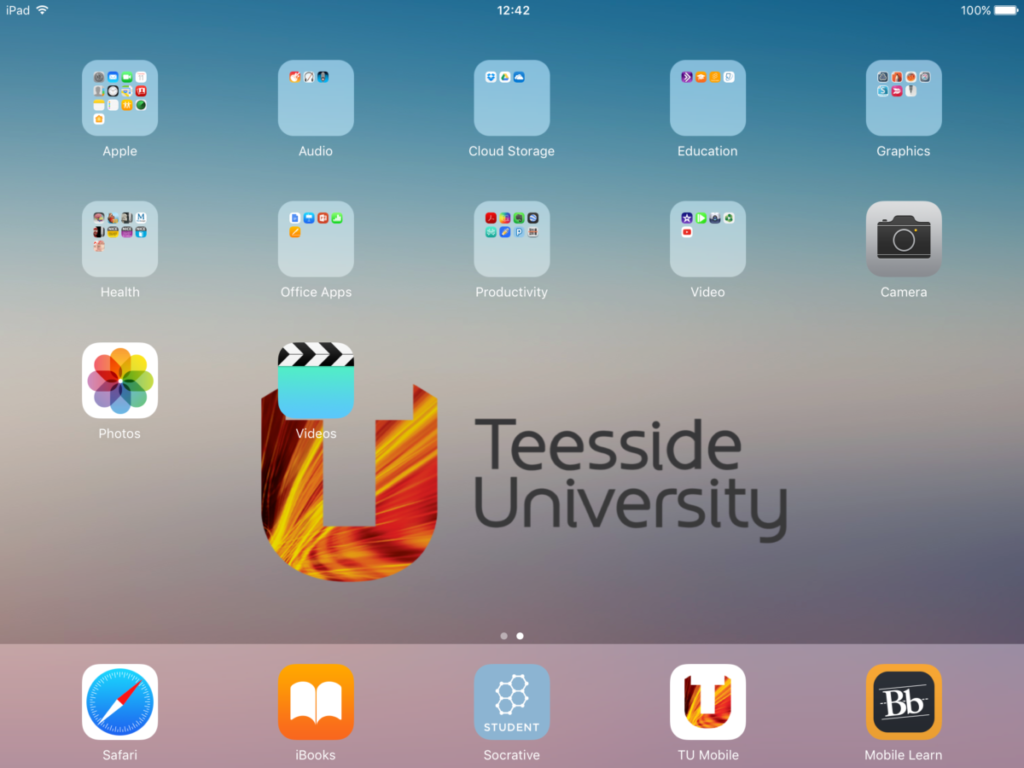 In collaboration with the volunteer academic staff, we decided on a suite of applications, arranged in groups, to make available to users:
Audio: Voice recording and music editing
Cloud Storage: Convenient ways to move content off the devices
Education: Collaborative learning, student response and online content access
Graphics: Drawing, visual learning and content capture
Health: NICE Guidance, anatomy and health policy
Office Apps: Microsoft, Google and Apple 'Office' applications
Productivity: Content creation, note taking and mind mapping
Video: Video capture & review, lecture & personal capture and video editing
Staff and students now have a powerful 'toolkit' of applications and technology that can be used in a wide variety of situations. Instead of having to book a computer lab, the iPad devices can be brought into an ordinary teaching room. Many of the rooms around campus are now equipped with wireless display projectors, so content can easily be sent from an iPad to the projector in the room. Students can access rich and interactive online resources, start discussions or visually manipulate data using the pre-loaded applications.
Interactive Support Material
Ian Parker, Senior Lecturer in Forensic/Crime Scene Science, has produced an 'Introduction to Photography' eBook, which allows students to explore and practice different elements of the subject during practical sessions. Alongside written instructions Ian has included demonstration and instructional videos and subject specific images to help students undertake different tasks.
Interactive eBooks can easily be created using drag and drop tools and free software, and the LTE team can then load content onto the devices to be used in your session.
This slideshow requires JavaScript.
Improving student feedback
Senior Lecturer Gok Kandasamy wanted to improve the feedback given to students studying BSc (Hons) Sports Therapy. He proposed to help staff more accurately and easily record events that took place during clinical assessments. At the time a paper based system was being used to record students' actions during the clinical assessments: everything that was happening was recorded on the form as it happened, and the notes made during the assessment would be the only means to determine which criteria the students had met and to which level they had done so.
Gok was interested in introducing an element of technology to the process in the hope it could improve the feedback the students received and he had already researched a number of ways in which he could do so. His proposal was to change the way the assessments were recorded and to change a number of elements involved. Instead of relying solely on the hand written notes, the assessments would be video recorded and the paper based forms replaced by a software application on a mobile device.
Using the Turnitin application on an iPad, Gok would recreate the assessment criteria as a rubric which would allow staff to see marking criteria in real-time. Staff would also be able to make use of pre-defined blocks of text and graphics which would be used to record events instead of having to write everything out on paper as it happened. The video would also be used as part of the feedback process in order to highlight areas for improvement or commendation and to allow staff to revisit what happened during the assessment with improved accuracy.
This slideshow requires JavaScript.
These are just two examples of innovative, good practice going on at Teesside University using mobile devices and we'll  publish more in-depth case studies for staff who are interested in using mobile technology in the future.
The 21 iPad devices held by the LTE team are available for academic staff to use with students. To make a booking for the devices or to talk about how you could use them in your teaching, please contact the LTE team.
Supporting the use of mobile devices