In the response to a staff request, the Multiple Markers feature for Turnitin in Blackboard Ultra has now been made available.
This feature allows for multiple instructors to mark a student assignment. Each instructor will be allocated a "layer" in which they can provide their feedback. Layers can be turned on or off to allow greater visibility and clarity of feedback.
In summary:
Comments / Annotations made by different people will be represented as different layers in Feedback Studio, which can be turned on or off separately.
Students will see comments tagged with the initials of the person who made them.
All staff can edit all comments on all layers.
There is still only one mark (i.e. the 20 out of 100 in the image below).
Multiple Markers is already turned on for TU Online.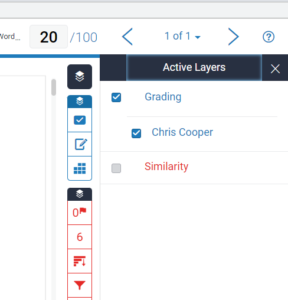 Read more: https://help.turnitin.com/feedback-studio/lti/instructor/commenting-tools/multiple-markers.htm
Turnitin: Multiple Markers Feature Now Turned On