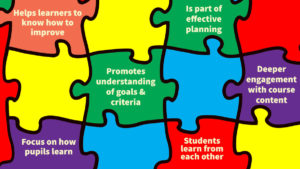 Peer assessment is the assessment of students' work by other students, usually of equal status.  Students often undertake peer assessment alongside formal self-assessment.  It allows them to reflect on their efforts and consider further improvements by exchanging feedback on their peers' work. 
Peer assessment is a powerful tool that engages students in the learning process and develops their ability to reflect on and critically evaluate their learning and skill development.  Peer assessment also helps to support enhancing understanding within the given field of knowledge. 
Peer and group assessments are also often undertaken together.  Typically, the members of a group assess the performance of their peers in terms of their contribution to the group's work. 
When to Use
Peer assessment can be used across a wide variety of activities including:   
For formative or summative assessments

 

Online or in class

 

For individual or group-based activities

 

Anonymously or openly

 
Benefits
It engages students in the learning process and develops their capacity to reflect on and evaluate their learning and skill development. 

 

You can use it to promote and provide evidence of the development of generic skills and attributes: 

 

Working cooperatively.

 

Encourage an atmosphere of trust.

 

Thinking critically.

 

Giving constructive feedback.

 

Learning from feedback received from others.

 

Managing their learning autonomously.

 

Developing interpersonal skills.

 

Developing an awareness of group dynamics.

 

When structured marking schemes are used peer assessment has a high level of validity and reliability.

 

Peer assessment is a positive experience for students as they appreciate its value in exposing a wide range of learning activities to critical and more public review, including class discussions and debates, extended writing tasks, oral and digital presentations, project management processes and demonstrations of leadership.

 

When assessing group work tasks, peer assessment creates a sense of equality, by identifying individual contributions and encouraging greater commitment to the group's effort.

 

Students gain insight into the complexities of interpreting and grading evidence of learning and see more clearly the assessment processes. 

 

Students generally have a good understanding of each other, peer assessment allows them to work together while determining each other's areas of mastery and weakness. 

 
Challenges
Peer assessment can present the following challenges that should be considered: 
As with all formative assessment tasks, if the peer assessment task does not contribute to the summative grade, students may undervalue its significance for their learning and avoid seriously engaging with it.

 

If it does count towards the grade, it can raise tensions and issues of loyalty. Students can be reluctant to criticise their peers; recipients may not consider peer feedback to be of real value.

 

Students may not feel they have the expertise necessary to give feedback on their peer's work. Or would prefer the "expert" opinion of the tutor.

 

Without adequate preparation or clear assessment criteria, students can mark work unfairly "produce ratings based, for example, friendship. This can be a particular issue with group work. 

 

Students tend to award higher marks than do tutors.

 
Summary
Peer assessment supports the move from a teacher-centred to a student-centred model of education, which emphasises the active engagement of students in their learning.  It is important that teaching staff at Teesside University, consider how they might relinquish some control over the feedback and assessment process to facilitate student learning. 
Peer assessment can dramatically reduce the marking load on academic staff and allow them to devote more of their time to other aspects of teaching and learning. It can also free up time to enable them to manage the peer assessment process itself more effectively.  
Successful peer learning and assessment require both effective implementation and management. It should be a purposeful and systematic approach integrated into course/module design that supports student learning and skill development. 
If you required any additional help and support to plan and integrate peer assessment into your course design, please contact the digital learning specialists at elearning@tees.ac.uk. 
Knowledge base articles relating to peer assessment
We have created knowledge base articles that can be used as guides in setting up and managing the peer assessment facilities in both Turnitin and Blackboard Ultra.  These guides also look at the peer assessment process from the student's perspective.