Building on the University's partnership and status as an Adobe Creative Campus, Teesside has been awarded a prestigious Faculty Development Grant focusing on digital innovation and new approaches to learning and teaching in Higher Education.   
Framed by Teesside's commitment to Future Facing Learning and cutting-edge digital assessment, the grant will aid the development of a total of five School-led projects designed to support creative assessment tasks and processes, exploring, and embedding various Adobe Creative Cloud applications between January and July 2022.  
Leading School project teams are:  
Helen Tidy (School of Health and Life Sciences)

Joanne Irving-Walton (School of Social Sciences, Humanities and Law)

Myriam Mallet (School of Computing, Engineering, and Digital Technologies)

Lesley Smitheringale (Teesside University International Business School)

Charlie Tait (MIMA School of Art and Design)
By combining Teesside's drive for realising Future Facing Learning with Adobe's industry-leading creative and design tools and digital learning resources, the intention of the grant is to help support academic staff in developing innovative assessment practices that build vital digital literacy capabilities in students from across a range of curriculum areas and courses.  
Each individual project is designed to align with the strategic School-level learning and teaching priorities, as well as being a crucial mechanism in a university-wide programme of digital transformation and curriculum integration.  
The Academic Collaborative Innovation and Digital Transformation sections in the University's Department of Student Learning and Academic Registry will support innovation through these grants, the products of which will create opportunities for all students.  
Teesside University will not only provide access to Adobe's industry-leading creative and design tools and digital learning resources, all our teaching staff benefit from dedicated activities to help staff embed the tools into their curricula. In order to effectively integrate Creative Cloud into the curriculum to help develop the communication, creativity and digital literacy skills that will set students up for success in the workplace and society, we have developed Adobe Labs in partnership with colleagues in Adobe.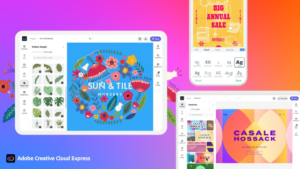 The aims of Adobe Labs are:  
To facilitate the Adobe Grant through school-led plans to embed creative assessments into course designs.

 

To facilitate bespoke interventions for colleagues outside the scope of the Adobe Grant in utilizing Adobe Creative Cloud applications into course designs.

 
Through the Adobe Labs teaching staff will be supported to embed Adobe applications into their curriculum and assessments, empower creativity for students & cultivate digital literacy and position the University to be a lighthouse reference for digital literacy in learning and teaching. We are just about to launch our comprehensive array of help resources and video walkthroughs for a number of Adobe applications. Details will be made available via our LTE Online blogs shortly. 
For further information please contact us via elearning@tees.ac.uk 
Academic Collaborative Innovation and Digital Transformation, SLAR 
Teesside University awarded Adobe Innovation Grant for new approaches to learning and teaching