A new feature has been added to the Blackboard Ultra Gradebook to help you to assess your learners. This feature allows you to filter your Gradebook by student name, group and by markable items. There is also the option to filter by various categories within the Gradebook.
To access this feature, select the Grid View and then click on the 'Filter' icon in the top right corner of your Gradebook interface.

From here you can choose the different options to help you to filter to a specific student, group or category. Once you have chosen your filters, click 'Apply'.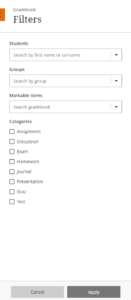 If you use the same filtering options regularly, you can save this page as a bookmark on your browser and this will save your filtering settings. By doing this, you can then open that tab when you need to access this specific information.
If you need any further help with this, please contact eLearning@tees.ac.uk
New Feature in Blackboard Ultra Gradebook – Advanced Filters