With the continuation of remote learning and teaching, it is more important than ever to keep learners engaged, inspired and focussed on their studies. Online video can provide compelling high-impact learning and differs from text and infographics by expressing multifaceted aspects of a topic. Compared to still graphics, audio, or text, videos also offer higher recall and retention to a captive and attentive audience. So, what are some of the key benefits?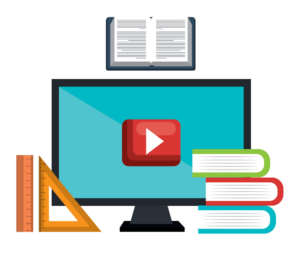 Fostering thought change. When introduced to a new idea or concept, students often mull over it and then move on. Conversely, seeing the same concept in motion through an online video can provide learners with an opportunity to pause for thought. This is turn strengthens and embeds how they think about what they have just learnt. Videos are also an excellent way to support bite-size learning. You can read more about bite-size learning here: https://blogs.tees.ac.uk/lteonline/2021/01/05/large-pieces-of-content-developing-bite-size-knowledge-acquisition-through-curriculum-design/
Making learning "sticky". Human beings are emotional creatures. The stronger the emotion we associate with information, the more likely it is to be remembered. This type of emotional connection is what makes pursuing a passion or dream so important to us, especially in our careers. When we have an emotional connection with a topic, it is no surprise that the learning is much more likely to stick. Videos can provide a vast array of content that has the potential to resonate emotionally with students.
"I can watch the world's best presenters, speakers, and thinkers and bring them into my classroom. I can challenge my students with that information. I can ask questions. I can engage them in discussion with their own small community of learners about just what the video meant for them. The goal is to produce some emotional response, and probably 70% come back and say, 'Wow, I've never known stuff like this existed,' 'This person made the topic come so alive for me." – (Rick Van Sant, associate professor of education at Ferris State University)
Facilitating behavioural change. When it comes to encouraging behavioural change, using online videos as part of the learning and teaching strategy can be hard to beat. You can include gamification, simulation and other interactive content that has the power to demonstrate the intended behaviour for learners to practice, model, and emulate.
Appeal to multi-generational learners. The popularity of mobile learning has also made small-footprint content delivered as microlearning nuggets of videos, extremely popular among cross-generational learning audiences.
Strategies to drive interaction and engagement
Reimagine student learning journeys. For the time being, learning and teaching remotely are here to stay. For that reason, online videos can be used to facilitate a continuous learning journey for your students for anywhere any time access. If you decide to incorporate video into your learning materials, don't treat them in isolation. Videos should be part of a larger whole, connected to other videos and learning material dedicated to related topics.
Build a video library. You can create video assets to support learning strategies, such as bite-size learning, point-of-need learning, how-to videos, tips and tricks, quick recall content, and Just-In-Time videos. Don't forget that once you build up a library of assets, you can re-use content as part of campus-based and hybrid delivery in future. Don't forget that you can also use Teesside University's Educational  Activity Capture service, ReView to record lectures, create personal captures, scree-case and make edits. You can learn more about ReView here: https://eatsupport.tees.ac.uk/staff/knowledgebase/getting-started-with-review/
Bite-size videos. Short-form online videos can be much more engaging than lengthy feature-length content. These videos, such as how-to videos, offer succinct and targeted learning and serve well as point-of-need material. You can read more about how to produce bite-size videos here: https://blogs.tees.ac.uk/lteonline/2017/05/23/bite-size-video/
Integrate scenarios and branching into videos. When executed properly, engaging scenario-based learning can be a powerful pedagogical method that can influence thinking, add tremendous value to online training, and even drive behavioural change. To be effective, scenario-based learning must mesh real-world experiences with the learning and teaching experiences that you create. Videos can be used to support SBL to illustrate real-life situations (work-related challenges) and demonstrate alternate ways to address them. They create useful checkpoints to bridge learning gaps and offer a safe environment for learners to practice what they've learned. Multi-dimensional problem-solving opportunities can also be implemented via 'branching', allowing them to see the consequences of alternating choices, actions, and decisions.
You can read more about using scenario-based learning here: https://blogs.tees.ac.uk/lteonline/2020/07/21/using-scenario-based-activities-to-support-active-learning/ Augmented learning experiences. As the use of experiential learning becomes a more popular way to demonstrate complex theories and ideas, augmented and virtual reality is becoming more accessible. Many academics are realising that incorporating AR into the classroom doesn't have to involve expensive headsets and gadgets. Rather than using videos as a stand-alone delivery tool, make strategic use of online training videos, in concert with immersive learning approaches such as gamification, bite-size learning and SBL, to deliver an augmented learning experience.
If you require any further assistance, please contact eLearning@tees.ac.uk
References:
Zull, J. (2006). Key aspects of how the brain learns. New Directions for Adult and Continuing Learning, 110 (Summer), p. 3-9.
Excerpted from A Learner-Centered, Emotionally Engaging Approach to Online Learning, Online Classroom, June 2
Drive learner engagement with high impact video strategies