Recently, as you'd expect at the start of the academic year, we've seen an increase in support requests with colleagues enquiring how best to provide lecture recordings to their students. Today's blog post will therefore focus on the advantages of using ReView (powered by Panopto) as the preferred method of recording presentations.
Now that so much of our teaching is being carried out remotely, the importance of high-quality online content has never been greater. More and more material is being placed on BlackBoard. When it comes to providing students with key lecture content, we often see staff taking the approach of narrating a PowerPoint. If this is your preferred method of providing your students with lecture-type content, we strongly recommend you use ReView to record yourself narrating the slides. Doing so has numerous advantages over using the in-built PowerPoint narration option.
Firstly, let's talk about file size. PowerPoints are often media-rich, containing many images or diagrams. As a result of this, they're often large in terms of file size. Add narrated audio to the mix, particularly for lecture length presentations, and the size of your PowerPoint file increases dramatically. Not only does this take you longer to upload to Blackboard and take up a significant proportion of your module quota (the amount of space allocated to each Blackboard module), think about things from the students' perspective; to view a PowerPoint, more often than not students first have to download it. That's a huge file students will be trying to download, potentially on their own mobile data allowance.
ReView has many advantages. Recordings in your module ReView Video Library do not count towards your module quota. Students also do not need to download before viewing – ReView will optimise the recording based on the device the students are using to view and stream it back to them, taking up much less of their data allowance should they be using mobile data, not WiFi. Furthermore, ReView also gives students greater control over how they view video content. Students can choose to have the presenter on the main viewing panel with slides or other material on a secondary window, or vice versa if they prefer. They can view thumbnails of slides and navigate around the presentation, revisiting these parts that they found most useful or interesting at their own pace. ReView also has a captions facility, making videos more accessible than an uploaded PowerPoint.
LTE has a wealth of ReView help resources available on LTE Online in our Digital Delivery Learning and Support section that we'd encourage you to take a look at.
Guidance on using ReView
There are guides on getting started with ReView and using ReView to record your lectures to help you begin to use ReView. If you are using your own device you will need to install the Panopto recorder first.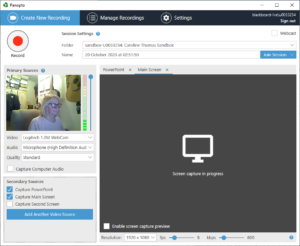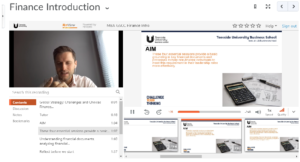 Tips for making good recordings
Practice. Record yourself practicing and experiment with ReView. Test recordings can easily be deleted.
If you are recording yourself, check the lighting so students can see you and you are not a face in shadow
Replay the recording and check the sound is good, you may need to adjust your microphone.
Be inventive. One technique I have seen work well is to tell students to pause the recording and do some task, such as posting in a forum, then come back and pick up where they left off. It gives a feel of a 'live' lesson.
Recording sessions can be exhausting – it takes a lot of concentration as you do not have the interaction with students and it can be quite intense. Try not to do too much at once.
If you have any queries about using ReView please contact us at eLearning@tees.ac.uk
The benefits of ReView over narrated PowerPoints