At a time when staff and students alike are having to demonstrate their capacity to flex and adapt to unprecedented levels of change and uncertainty, not just in relation to their academic work, but more significantly in every facet of their lives beyond university – it has never been more important to preserve the quality of the learning experience and academic standards to ensure that students from all backgrounds can still be in a position to succeed. This is no more important as when we are considering alternative online arrangements for end-of-semester assessments.
To further support the implementation of your assessment preparations, please refer to Teesside University's 'Considerations and Resources for Digital Platforms and Tools Supporting Alternative Assessments' resource. Any changes to assessment and feedback at course level should also be made with reference to the University's Assessment and Feedback Policy.
You can also download a printable PDF copy of the Considerations and Resources for Digital Platforms and Tools Supporting Alternative Assessments here:
https://blogs.tees.ac.uk/lteonline/files/2020/04/alt_assessment.pdf
As we continue our journey in the online delivery of our courses, we need to keep in mind that principles of good assessment design such as constructive alignment, equitable and appropriate assessment methods, clear and transparent criteria, and timely and constructive feedback remain key considerations.
Still more crucially, available staff guidance on LTE Online is framed by the principle of 'No detriment' by which no student should be disadvantaged as a result of the changes to assessment being introduced, as well as the belief that an alternative online assessment is not a lesser form of assessment, but rather a different assessment to achieve the same aim. In considering an alternative to an existing assessment, Module Coordinators are having to consider alternative assessment strategies with respect to end-of-semester assessments that allow students to be productive in terms of their learning, support progression and pave the way for attainment, whilst themselves getting to grips with the digital tools and practices required.
In doing this there are a few core considerations to keep at the forefront of our thinking over the course of these next weeks and months (these are captured and expanded upon in the Principles for designing alternative online assessment arrangements):
Assessment needs to be fair, inclusive and accessible, whatever form it takes. It is important that we are being mindful of the impact making changes to assessment arrangements might have on our students. Module Coordinators need to remember that some students for a variety of reasons may have challenges engaging with online assessment (i.e. access to technology; illness; competing familial/caring responsibilities).
We need to take care to build in alignment and continuity between new assessment type(s) and already completed summative assessments, as well as the formative teaching strategies used to support the students' learning to date. Steps should be taken to ensure all students are given clear and comprehensive instructions on all aspects of the operation and completion of the alternative assessments.
It is timely to think about introducing easily actionable formative opportunities for students to trial new practices and build confidence in using tools and technologies. Introducing opportunities for regular feedback dialogue with students can help to clarify learning goals, as well as provide students with an opportunity to check their understanding of what it means to 'do' assessment online, and increase their confidence at what is likely to a period of high stress and anxiety.
Alternative assessment arrangements should be manageable and achievable with the skills students have already developed and not demand complex 'additional' requirements from students in order to complete the task. Now is not the time to try new software or apps when devising alternative assessment arrangements, keep things familiar and consistent to what you and your students are used to doing in terms of patterns of work.
When moving to an alternative assessment method, we must be clear about our expectations for student work. It is unreasonable to apply strict expectations around the quality of production of alternative assessment artefacts (i.e. video-based assessment artefacts) in instances of such significant disruption and/or when alternative methods of assessment or modes of assessment have been introduced. Instead our focus when marking and moderating student work should be on the content of the assessment piece and how well it addresses the marking criteria. It is worth noting here that existing assessment criteria/rubric may need to be adapted to align with the alternative assessment and that any revised criteria/rubric need to be shared with the students and are used to support inter-rater reliability across module teams.
How the LTE Team can support you
The LTE Team is fully committed to doing everything we can to support colleagues with transitioning their teaching and learning online. We to support staff by offering online drop-ins for one-to-one or small group bookings for tailored support and guidance. We can develop your expertise and understanding relating to assessment and feedback, learning spaces and active learning. There is a wide spectrum of digital tools and solutions we can support you with to facilitate the design and delivery of modules and courses. In addition, we can offer guidance with learning activities, digital communication, collaboration initiatives, practical work and digital solutions for assessments.
We offer 30-minute bookable slots with a Principal Lecturer, Digital Learning Developer or Online Learning Designer. The process to access an 'online drop-in' is as follows:
Staff wishing to access an 'online drop-in' will email elearning@tees.ac.uk, providing us with:
i. The theme of the request (what you need help with).
ii. Your availability (we'd ask that you give us at least a one-hour window during which you'd be available for a 'drop-in').
A Principal Lecturer, Digital Learning Developer or Online Learning Designer will schedule a 30-minute Microsoft Teams Meeting.
You will receive an invitation (as you would with a meeting arranged through Outlook) with a link through which you join the meeting at the appropriate time.
Note. You do not need any special software or equipment to book into one of the drop-in sessions., you simply need a device which can access Microsoft Teams such as a smartphone, iPad, laptop or PC. Teams can be accessed through a web browser (https://teams.microsoft.com) and is also available for download on Windows, macOS and Android.
For more information on Online Digital Learning Drop-In Sessions, please visit: https://blogs.tees.ac.uk/lteonline/2020/03/20/online-digital-learning-drop-in/
Subscribe to the LTE Blog for regular updates
Join over 1300 subscribers by subscribing to the LTE blog to receive regular updates on useful practice and guidance. Simply add your email address at the bottom of the page and we will keep you updated!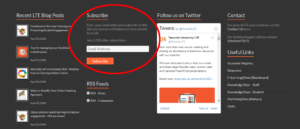 Supporting the design and implementation of alternative online assessment arrangements