The following is an example of how the Future Facing Learning toolkit specifically Microsoft Sway was integrated into a seminar task to provide more active learning.  The module 'Introduction to Physical Activity' is level 4 and ran by Alison Innerd a Senior Lecturer in Sports and Exercise within the School of Health and Social Care.
How the FFL toolkit was integrated into the task
The seminar task required thinking about the evidence-based explored in the lecture subject 'environmental influences on physical activity'. Very fitting to the ethos of the module students were required to walk around campus and find examples of appropriate environmental influences and evidence these. Microsoft Sway from the toolkit was chosen for this task as it allows for the building of digitally rich presentations by easily bringing in content from mobile devices.
The students were required to work in small groups to produce a Sway presentation of the physical environment at Teesside University. Their work needed to demonstrate how the environment promotes or discourages activity, adding images, videos and written text into a Sway presentation.
Feedback from students on using Sway
Feedback from the students was very positive 88% said they found that the app worked well for the seminar task. By using Sway students were able to document evidence and add photos of taken with their iPad whilst walking around campus into the presentation.  As one student noted using a mobile device helped completed the task "because it allowed me to access resources without a PC".  Using the device to gather media meant that "information was easy to record in a tidy way".  As another student explained:
"It helped make the presentation easier to produce and follow"
Since Sway has inbuilt style templates the students can concentrate on building their presentation by inserting images and text into a storyline structure first.
Once the content is added Sway will take care of the layout and presentation in Design mode meaning that time is not spent formatting the presentation.  Students commented that:
"It helped create an interesting presentation". 
Here are a few examples of the work the students produced within their allocated 1 hour of seminar time on the task.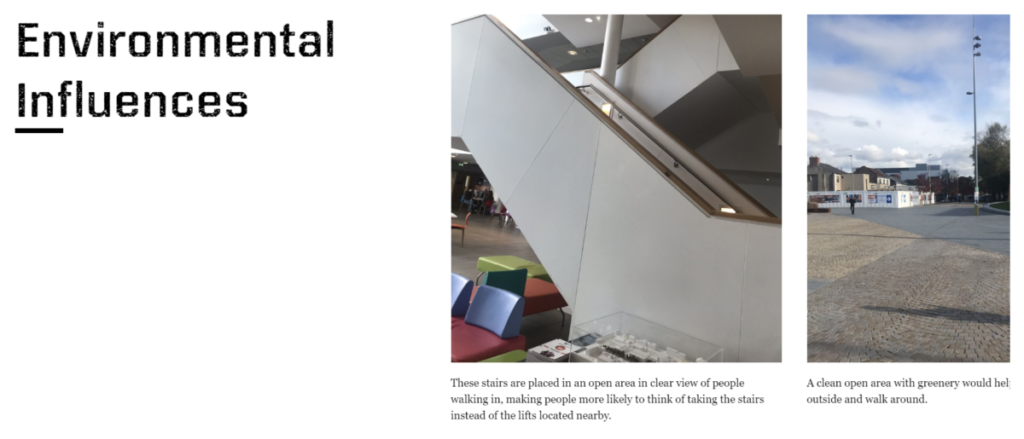 As can be seen from these examples the students can easily combine text and media to demonstrate their chosen evidence from the environment.   Different inbuilt design layouts can be easily applied once the content is compiled.

Lessons learnt – supporting students
For most students this task was the first time they had used Sway and some support was needed.  Feedback on the ease of using Sway was mixed, some found it intuitive and others requested more support.  Using Sway for the first time had a learning curve as explained by one student:
"Learning to use it took time as it was different to other presentations but when you got used to it, it was pretty easy to navigate"
In order to provide more support Alison shared links to supporting Future Facing Learning Self Help Videos on Sway to provide more information.
Support for staff
If you'd like to discuss the use of Sway with the Digital Learning Team, please don't hesitate to drop us an email at eLearning@tees.ac.uk . We'll be only too happy to go through things with you.
Leave the classroom and go mobile with Microsoft Sway