Jibin He from SSED came to visit us asking about using a stylus for his iPad. As he works with a lot of equations and scientific notation, to be able to write these in a digital space more naturally would be very advantageous. Previously, any work would be written on the traditional whiteboards in the classroom, to be wiped clean at the end of the session.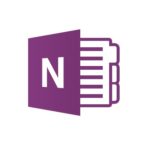 So we looked at using a OneNote page on the iPad, projected onto the main screen of the lecture theatre through the HDMI cable adaptor.
This proved to work very well. OneNote (and other Microsoft apps) comes equipped with a comprehensive set of drawing tools. With a little bit of experience, Jibin was able to use the stylus very smoothly, writing quickly and fluidly. Students were then able to make the most of his experience and skill.
As the notes were made via OneNote, they were saved automatically. OneNote allows you to export your notes as, say, a PDF file which allows you to share your work without giving full access to your notes. Therefore, Jibin was able to disseminate the notes from the session digitally to students.
This article explains how it can be done.
Another option would be to share a link to a particular OneNote. This could be shared via email, or in your Blackboard module. You can adjust the permissions of this as well to allow people to either be able to edit or just view the OneNote.
This article explains how to get a shared link from OneNote.
Another great example of how staff are using the Future Facing Learning toolkit! If you would like help doing this yourself, contact the Digital Learning Team in Academic Registry on elearning@tees.ac.uk.
Using Microsoft OneNote to capture lectures