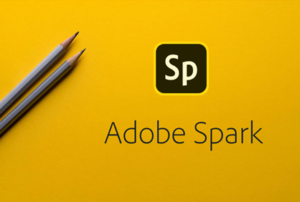 For learning and teaching to be truly student-centred, there needs to be time for students to construct their knowledge. This means we need to find a way to allow students the time and space they need to work with information, play with it, and use it to mash it up or create something new and authentic. This creation process allows students to begin  "transfer of knowledge" – which happens when students can apply their learning to something new, authentic, or real world. Adobe Spark can provide students with the opportunity to take part in this type of creation process.
New to Adobe Spark? We've created a useful blog to get you started: https://blogs.tees.ac.uk/lteonline/2021/09/16/adobe-spark-the-basics/
Here are 10 ways you can integrate Adobe Spark into your learning and teaching:
Create a short flipped lesson. The recording tool makes it easy to precisely record your narration over the slides in your lesson.
Have your students create video lessons. The slide aspect of Adobe Spark's video tool lends itself to students creating short documentary videos. You could have them use Spark's search tool to find images to use in their videos or have them use a place Flickr's The Commons to find historical images.
Use Adobe Spark's video creation tool to make a video of highlights of the topic or subject matter. Rather than narrating the video, you can use music from Adobe Spark's library.
Create a Digital Portfolio. Spark pages provide a great format for digital portfolios. Students can organise their pages into sections to showcase videos they've made, documents they've written, and their reflections on what they've learned.
Add a visual twist to standard essay writing.  Adobe Spark is a great way to make essay writing more interactive. Because of the growth of digital content, especially social media, today's students can be much more adept at using images and visual forms of communication. With Adobe Spark, it is easy to use both words and visuals to communicate one's ideas in writing.
Make a multimedia timeline. While it wasn't designed specifically for making timelines, Spark's page formatting does lend itself to timelines. Ask your students to research a series of events, find media representatives of those events, caption the events and media with dates, and then place them into the proper order.
Social Sharing/Interaction. With a shareable link at the conclusion of a project, students can share their work locally or on social media in order to find a global audience and interact with others interested in the topic.
Instructions. With the use of Adobe Spark Video, students are able to create integrated, step-by-step instructional videos with narration to practice the process and share with interested students.
Curate images. Students are consuming content at a rapid pace. This is regardless of the device they frequent or the websites they call their favourites. Curation is important in today's classroom and students can demonstrate creativity as they search and choose images within the Spark tools. Page, Video, and Post all give students the option to add images to their creations. Students can pick and choose from their own library of photographs. Or they can use the search feature within each tool to find the "perfect" image for their creation.
Spark on your phone. A big problem you have with apps like Photoshop is that they are not powerful on phones as they are on a laptop, making it hard for people who are never close to their laptops to make content there. Spark Post solves the problem by giving you the same editing power on your phone as you would have on your laptop which is perfect for people on the go that want to publish content anywhere they are regardless if they have a laptop close or not!
If you require any further assistance, please contact eLearning@tees.ac.uk
10 ways to use Adobe Spark in your lessons