We are delighted to bring you a series of six Creative Campus Live sessions with Adobe.
Our next session takes place on Thursday 8th July 2021, 12:00 – 13:00 where we'll look at "Adobe and Immersive Learning Experiences".
Are you are looking at ways to embed creativity, collaboration and a variety of skills into your curriculum and assessments to prepare your students for the changing professions and industries? These sessions are for you.
** Please note – this event is opened to all Teesside University staff only.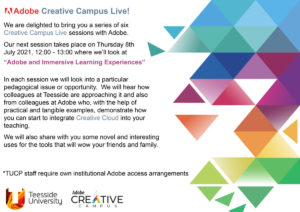 ** Booking is essential to ensure your place on this session **
To book this session please click here
For more information, please contact eLearning@tees.ac.uk
Adobe and Immersive Learning Experiences. Book your place now!