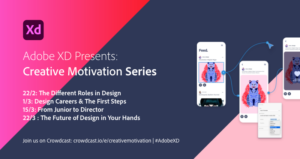 Are you currently studying a creative course at uni and wonder what it's like to enter the creative industry?
Would you like to learn some top tips from inspiring creatives who started out just like you; but have now risen through the ranks and gathered heaps of good insights along the way?

Yes?
Well, then Adobe would like to welcome you to our shiny new Adobe XD: Creative Motivation Series. 
Across 4 sessions we'll be live with an amazing bunch of industry profiles who will share their top tips as well as take your questions on all things creative jobs, hiring techniques, portfolio tips, employability skills, industry insights, leadership lessons, future of design, and much more.
The series is aimed at current students wanting to embark on their creative journeys with confidence — but we also welcome  curious students from non-creative courses who would like to find out more.
—
Topics & Sessions
22/2: The Different Roles in Design
1/3: Design Careers & The First Steps
15/3: From Junior to Director
22/3 : The Future of Design in Your Hands
Each session will kick-off with a panel discussion led by Adobe XD's Lisa Reeves and 4 panelists, and wraps-up with a live Q&A with questions from the audience.
Click here to register: Adobe XD: Creative Motivation Series – Crowdcast
If you need any further help, please contact eLearning@tees.ac.uk
Adobe XD: Creative Motivation Series – 22nd February 6.00pm