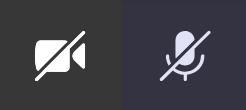 An emerging concern amongst academics is around engaging students during online sessions – particularly students who join sessions, but don't engage the camera or microphone. This has led to staff being unsure whether students are engaging and making contributions, which has obvious impacts on learning and teaching at the university.
So, what could be at the root of this? The online component of learning can feel impersonal, leading to students struggling to build a relationship with their tutors, as well as not feeling part of the learning community. For many learners, a faceless seminar can hinder an already strained relationship and can deepen the feeling of isolation and disengagement. Also, for students whose first language is not English, or students with aural difficulties, the chance to read someone's lips can make or break the quality of their education.
It was only a year ago when students were attending lectures, seminars and lab sessions on campus. Now, with the online component of hybrid learning, many classes are virtual with staff and students forced into an exchange where others see into their homes and private spaces.
Inclusive learning and competing obligations
Before considering your camera/microphone policy, it is worth noting that not all students are avoiding using the camera because they are necessarily shy or lazy. It is estimated by the NSU that between 3 and 6% of students are carers, and students who care for others are four times as likely to drop out of education as other students without those responsibilities. Some students may be caring for a vulnerable person, or a parent looking after their children and may not wish to appear on camera or use the microphone. Also, requiring students to use video/microphone during class makes assumptions about their ability to pay for the requisite technology. We have many students at the university from low socio-economic backgrounds, many of whom live below the poverty line. Many students simply may not have the money to keep up with the technological requirements of remote learning. Indeed, many of these students had access to communal computers and laptops in pre-pandemic times which is now no longer the case.
Remember that some students may also be self-isolating and simply cannot leave their home or room. For these students, they could be studying in their lounge, kitchen or even their bedroom. Being mindful that having the freedom to learn anonymously can make a significant difference to student wellbeing. Try not to assume that just because their cameras or microphones are turned off that they are not actively engaging. You can still check that learning is taking place and that students are engaging using several different strategies, such as using the chat function and asking for individual ideas and contributions or by using paired/group breakout rooms. Evidence suggests that many students often feel more comfortable switching on their camera in smaller breakout rooms with familiar individuals or groups of students.
You can learn more about how to create breakout rooms using Blackboard Collaborate or Microsoft Teams here:
https://techcommunity.microsoft.com/t5/video-hub/master-virtual-breakout-rooms-in-microsoft-teams-meetings/m-p/1689437
Blackboard Collaborate Ultra – E@T Support – Staff (tees.ac.uk)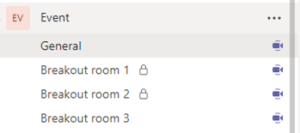 Setting early expectations for turning on the camera may help students to adapt quickly to video chat as their 'new normal' for learning, however finding a perfect policy, whilst respecting privacy wellbeing may not be possible. This is especially true for the aforementioned students who are learning in difficult situations and conditions. Where students are reluctant to turn on the camera, maybe have a private conversation with them to establish why. You can then consider alternative methods of engagement. The goal is to ensure that students feel comfortable and safe whilst learning online.
Student Engagement
Student Engagement can have a positive impact on enhancing the student experience and has a critical role to play in improving student retention and achievement. Teesside University is committed to promoting effective engagement and key elements of its Learning and Teaching Strategy explicitly captures how we engage our students:
Create a learning culture and an innovative curriculum with inspirational teaching informed by research and employer engagement and the professions.
Create a stimulating learning environment that provides the space, facilities and technology for effective learning and personal development.
Teesside University's commitment to student engagement, retention and success is also evidenced through its Vision, Mission and Values and explicit within many themes of its Academic Enhancement Framework (AEF).  The AEF provides the structure through which Future Facing Learning, and other key strategic priorities are embedded within academic practice ensuring students are provided with the skills and knowledge to thrive in complex and uncertain futures.
The last few months have seen unprecedented times with Covid-19 and the movement of our teaching and learning support to online.  From September 2020, the University adopted a hybrid delivery model consisting of on-campus and online delivery, aligned with Government social distancing restrictions.  When reading this guide it is important to consider its contents from the perspective of delivering teaching and learning support through the hybrid delivery model.  To support staff and students in understanding the expectations and key principles aligned with the implementation of the hybrid delivery model (for the 2020/21 academic year) the AEF Matrix has been designed. Whilst all elements of the AEF are pertinent to engaging students throughout course design and delivery across the University, this Matrix emphasises those which are most relevant for the hybrid delivery model.  The AEF Matrix, along with further detail on each theme of the AEF, including measures of enhancement and excellence, can be found on the AREG Unity site:
Staff Development – Academic Enhancement Framework (tees.ac.uk)
Download this PDF: STAFFGuideStudentEngagementFinal.pdf (tees.ac.uk)
Advance HE Webinar – December – Engaging learners: Any time? Any place? Anyhow?
December's Connect Benefit Series follows the theme of student engagement. Students' sense of belonging is developed through engaging and socially constructed learning experiences; this is a challenge that is further emphasised on a physically distanced campus.
During December we will explore a variety of pedagogic approaches required for quality inclusive and equitable higher education. Under this theme we will explore practical solutions to promote active learning and engagement for all students – whether online or face-to-face and ways in which teaching teams and their leadership can be supported.
For more information and to book, please click here.
If you need any further help, please contact eLearning@tees.ac.uk
Student engagement: Why some students don't turn their camera on