Earlier this year, educators needed to rapidly adapt to remote learning as lockdown forced institutions online and required tutors to replace their normal face-to-face teaching model. Effective online learning and teaching require advance planning, flexibility, accessibility, and engagement from all aspects of your learning and course design.
To help you to navigate and further develop your online and hybrid learning offer, one of our software partners – Blackboard – has compiled a list of online learning best practices and other helpful online learning resources. You can also read more about Digital Delivery: Learning and Support here:
https://blogs.tees.ac.uk/lteonline/digital-delivery-learning-and-support/
Online Learning Best Practices  
Blackboard has prepared a range of resources to help you with improving remote and online L&T practice. These range from useful accessibility checklists, to engagement strategies and inclusive learning.
Accessibility Checklist: A quick-start reference guide to creating more accessible course content. The University will strive to provide accessible lecture content, including the provision of appropriate alternative formats for students who have a Student Support Plan in place. We want as many people as possible to be able to use the Blackboard website.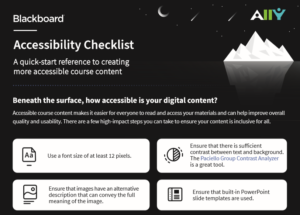 We've also put together step by step guides will help everyone meet the requirements of the new accessibility regulations.  The guidance covers accessibility features of various tools available to us all and simple techniques we can use to ensure resources are accessible as possible:
https://blogs.tees.ac.uk/lteonline/2020/10/15/accessibility-guidelines/
3 ways to stay connected when going remote: Resources to ensure that your online course continues to provide an inclusive learning experience.
Student Engagement: 5 Strategies to Motivate the Online Learner: Helpful strategies to motivate online learners and ensure active engagement.
Student engagement and motivation will always be a challenge. Hybrid learning can present unique challenges over the traditional face-to-face class, especially since you often do not physically see or interact in real-time with your students. Without face-to-face communication, verbal queues and emotions that faculty rely on in the classroom can get lost. This site shares some of the methods to try to motivate online learners to be engaged and in control of their learning.
Inclusive Education Pack: A free resource to help you author more accessible content and improve the learning experience for all students.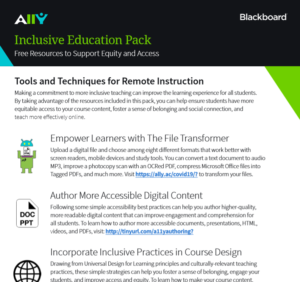 Blackboard Ally File Transformer: "File Transformer" allows you to upload a course file and download it in an alternative format. This way, you can personalize your learning experience to better fit your needs, devices, and learning preferences.
After uploading your file, pick an alternative format that best suits your current task or situation. You can pick and mix formats too.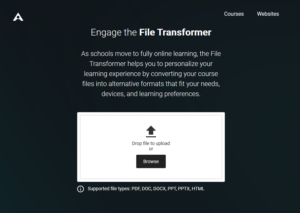 As always, we're here to help you understand and support you to implement all your digital learning plans.  You can reach us at elearning@tees.ac.uk to ask any questions or to book a time for a longer 'live' chat with us (facilitated through MS Teams).
Helpful Online Learning Resources for Semester One – Part 2