Teesside University has scooped a prestigious award for its ambitious initiative to digitally empower students and staff.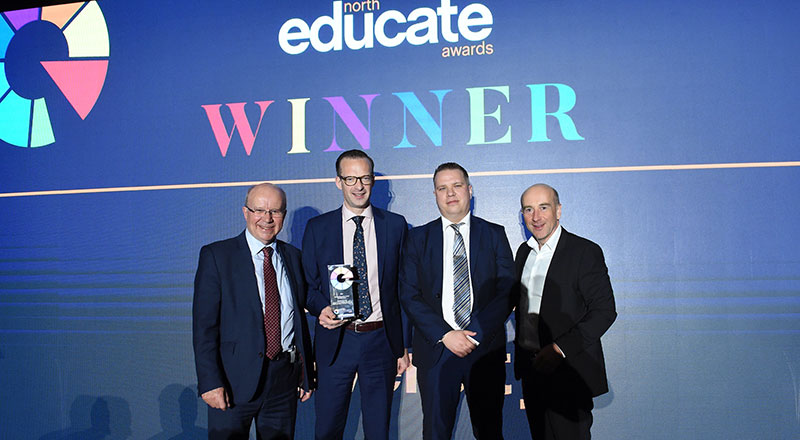 The University won the Student Experience category at the annual Educate North Awards.
It was in recognition of the Future Facing Learning initiative, which has seen Teesside embed a bold and ambitious approach to digital learning across the University.
Future Facing Learning at Teesside provides students with the knowledge, skills and tools to thrive and succeed in a complex and ever-changing world. The University has embraced cutting-edge digital technology to completely change the way that students learn across the whole portfolio of academic courses.
The initiative also involves the Teesside Advance scheme, which sees all new eligible full-time undergraduate students receive an Apple iPad and a specially selected toolkit of apps which will enable them to excel at university and beyond.
In addition, the University has partnered with Microsoft to digitally upskill and empower staff and further enhance the teaching and learning experience for students.
"It is fantastic recognition of all the hard work and commitment to put students at the heart of everything we do." – Professor Mark Simpson
Hundreds of academic staff have enrolled on the Digital Development Programme which, in partnership with Microsoft, enables them to access a wealth of development opportunities, as well as the chance to achieve Microsoft Innovative Educator Expert (MIEE) certification upon completion of the programme.
The Educate North Awards celebrate, recognise and share best practice and excellence in the education sector in the North and Teesside University received its award during a ceremony in Manchester.
Professor Mark Simpson, the University's Pro Vice-Chancellor (Learning and Teaching), said: 'Future Facing Learning is an extremely ambitious scheme, designed to ensure that all of our students are future-ready and are equipped with the skills and attributes which employers are looking for.
'We are delighted to receive this award – it is fantastic recognition of all the hard work and commitment to put students at the heart of everything we do.'
Source: https://www.tees.ac.uk/sections/news/pressreleases_story.cfm?story_id=7130&this_issue_title=April%202019&this_issue=311
Student experience accolade for Teesside University