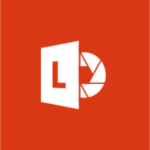 A little while ago, Microsoft made some very interesting developments to their wonderful Office Lens app. We will look at those enhancements in a minute but first, let's take a quick look at Office Lens.
If you've not used it before, it's a very handy app that can "scan" a variety of materials: whiteboards, documents, business cards and so on. In a nutshell, you take a photo of what you want to capture and Lens does the rest.
Some example scenarios might include:
After using a whiteboard in class, Office Lens can capture that content and put it into a digital space for you to share with your colleagues or students.
It can capture a document and convert it into editable text. Using the immersive reader, this can then be read out loud.
If you're at an awkward angle from the material, Lens will attempt to adjust it to make the resulting artefact look more presentable.
And now you can do more!
Annotation
Office Lens now comes with tools to allow you to annotate the scanned content. So once you've taken your photo, you get the option to put text over the top of it. Whilst you currently cannot change the size or font of the text, you can change the colour of both the text and the background.
Drawing
You can now draw over whatever it is you have captured. At present, you can only change the colour of your drawing tool, but letting you do this within the app itself makes for a fast and smooth workflow. An alternative would be to bring the captured image into something like PowerPoint or OneNote and use the drawing tools found within.
Filters
Should you wish to try and improve the look of your scan, there are several filters to enhance the picture.
Mode
Finally, you can change the mode of the scan retrospectively rather than having to retake the picture. For example, you might take a picture of a document but accidentally leave Office Lens in Picture mode. You can now change it from Picture to Document, thus letting you convert the picture into an editable document.
For those of you who use Twitter, you can always follow the Office Lens team here. If you'd like to discuss the use of Office Lens, please don't hesitate to drop us an email at eLearning@tees.ac.uk and we'll be only too happy to go through things with you.
Annotating in Office Lens