Earlier this year a few colleagues and I attended the Blackboard User's Conference, organised annually by Durham University.  It's one of the better conferences in our field and is always really well organised by our counterparts over in Durham.  The conference is now in its 17th year and, whilst the title has remained the same and attendees are generally Blackboard clients, the conference has evolved to have a wider Technology Enhanced Learning (TEL) focus.  Below are a few highlights I've picked out to share.
Mobile and Collaborate Usergroup (#BbMoco)
The day before the conference started an interesting usergroup meeting announced the start of a new online community – BbMoCo.  The BbMoCo (Blackboard Mobile and Collaborate) community consists of colleagues from across the UK and Europe who have various TEL roles within their institution.  There is also a Blackboard presence in the group and this relationship between client and vendor will be key in steering the direction both products take in the future.  Whilst LTE are responsible for TU Mobile and it will be interesting to have one eye on other institution's mobile strategies, the focus for us is primarily with Collaborate.
Collaborate Ultra
Collaborate Ultra is Blackboard's an online classroom/webinar/web conferencing (call it what you want) solution.  It is completely browser-based (making it very easy for people to use), has a fresh, modern-looking design and integrates with the Blackboard Learn Virtual Learning Environment (VLE), meaning colleagues can schedule, run and record their own sessions as they see fit.
Some possible use cases are:
Tutorials/one to ones.
Drop-ins.
Online lectures.
Guest lectures (anyone from anywhere in the world can contribute to your sessions).
Online Meetings/Collaboration (staff-student, staff-staff, student-student).
Recordings (for catch-up or revision).
We'll be launching Collaborate Ultra at Teesside in the very near future, so look out for some publicity soon.
Supporting Transition to University with Numbas outside the Maths Department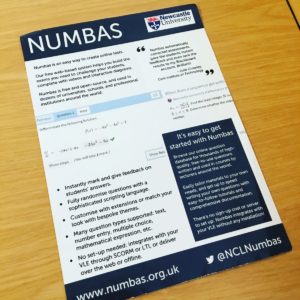 It was interesting to hear from Newcastle University about 'Numbas' – an open source mathematical e-assessment system – used in this context to support the transition into University of students in subject areas outside of mathematics.
Numbas was developed in-house and was designed from the start to be usable by question authors who aren't experts in maths.  It is now used extensively by 100+ institutions in the UK and around the world, meaning there's a large bank of open access questions available for tutors to repurpose (3000+ exams, 14,000+ questions).  Numbas generates SCORM compliant exams that run entirely in a web browser and integrate with VLE's such as Blackboard.  With the SCORM content being entirely self-contained, Newcastle had even posted self-diagnostic tests for incoming students on USB sticks.
Newcastle have used this summatively and formatively, it's proven very popular with students who really liked being able to try randomised questions over and over again until they were comfortable with the content.
More details of the presentation can be found here.
Driving Module Evaluation with Automated Enterprise Surveys
Chris Slack (Leeds University) gave an interesting presentation on the use of automated surveys for module evaluation.  Leeds used Blackboard's Enterprise Surveys Tool (included within the Blackboard Learn VLE) to streamline the process of distributing module evaluation surveys to students and to vastly reduce the resource required and time taken in collating responses and preparing statistics.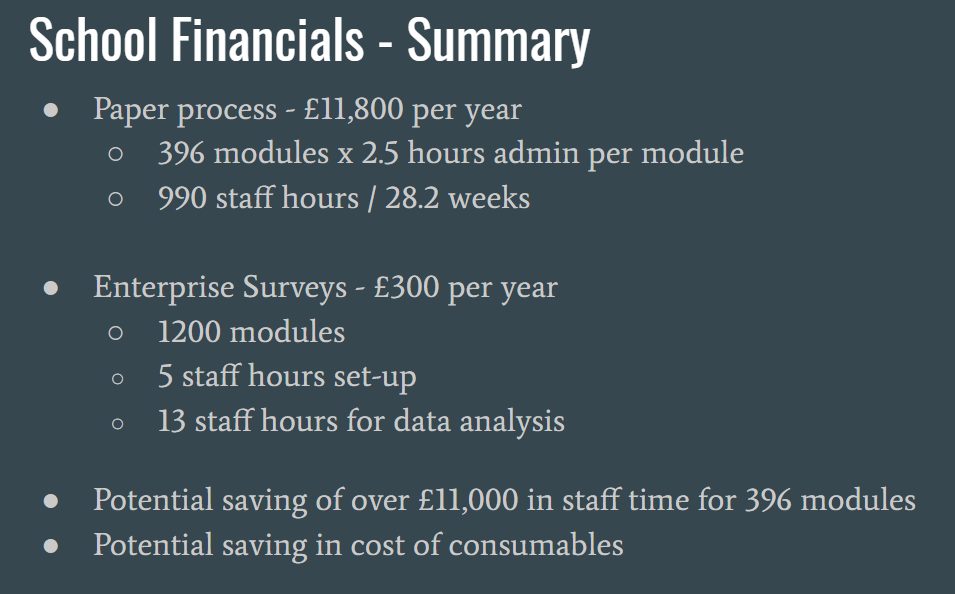 Leeds had obviously allocated significant resources to the automation and configuration of this process, including the in-house development of a complex add-on for their Blackboard environment to allow colleagues across their Schools to configure module evaluation surveys for themselves. However it was certainly a very effective, scalable use of Enterprise Surveys and the results in terms of response rate and efficiency savings were impressive.  Leeds calculated a potential cost saving of over £11,000 per year.
More details of this presentation can be found here.
Durham Blackboard User's Conference 2017