In this blog post we're going to take a quick look at 10 RSS widgets that you can embed directly into your Blackboard module.
What is RSS?
RSS stands for either Rich Site Summary or Really Simple Syndication. It allows you to get updates from various websites delivered directly to you without the need of visiting those websites. With a little bit of effort, you can use an RSS feed in your Blackboard module. This means you can have dynamic content changing on a regular basis in your module without having to do anything! Of course, if the website doesn't change then there will be no new information but if you choose sites that have regular updates then the content will change frequently, making your module look a lot more alive.
The first thing you need are RSS feeds. If you look at some of your favourite websites, you might notice the words RSS in a link somewhere. From my experience this tends to be around the bottom of the page. If you click on this RSS link in your browser you'll most likely get a page of code. However, if you copy that link into what's known as an RSS Reader it will display a summary of the contents of the website in a clear format.
Now that you've got an RSS feed, you can make a widget. This is something that you can put into Blackboard as a content item, making it look like there's dynamic information.
I looked at 10 free, web-based widget solutions and compared them with each other. I've tested each widget with the same RSS feeds to ensure that this review is comparable. As this post is related to Blackboard, the final part of the testing was uploading the widget into a content item and trying it on different browsers (Internet Explorer, Mozilla Firefox and Google Chrome).
No time to read?
If you've got no time to read the review of each app, I'd go directly to FeedWind or Tint. FeedWind is the more robust and allows for lots of feeds in one place. Tint looks much slicker but the free version only allows 2 feeds. I would happily recommend either of these for your feed needs.
Want a quick summary?
Want the full details?

1. FeedWind. No sign up is required to use this widget generator. You can add multiple feeds, which are grouped and presented. So if you add three feeds, it will display details from feed 1, then feed 2 and then feed 3 rather than mix them up. There are lots of configuration options, all controlled through a very intuitive web interface. Several of the options produce scrolling feeds which looks very much like a "live" news broadcast. What it displayed from the feeds varied – it picked up some images but not all. However, you can tweak the settings considerably to produce an effect that is tailored to your needs. When you've finished tweaking your settings you can then cut and paste the code it generates and put that into Blackboard with no fuss. When tested, it works well with all 3 browsers. Definitely one of my favourites.

2. RssFeedWidget. This tool requires no sign up, but it only allows one feed to be used. There are some basic customisation options and the result is a very clean interface, but also one that is very simple. It seemed to struggle with images. Rather than simply not displaying an image, I was often presented with the icon of a broken image which was a bit off-putting. When embedded into Blackboard, it worked fine with Internet Explorer but not in Firefox or Chrome.

3. Tint. There is a sign up required to use this tool, which is free. Once signed up, you can incorporate 2 feeds. The resulting display is probably the best out of all widgets tested. If you have used services like Flipboard you will most likely enjoy this feed reader. There are numerous options for displaying in different ways, including options for animated displays. In addition, there were tips on making the output responsive which worked very well (that is, it worked for different size screens). Images were picked up from numerous feeds, and if there was no image a nicely displayed headline was shown. When uploaded into Blackboard, it worked with all three browsers. The only reservation was that the free version only allowed for two feeds to be inserted. If this is not a problem, I would recommend this service.

4. Feedgrabbr. After a free registration, Feedgrabbr allows you to set up a feed widget using up to 3 feeds. A nice feature of feedgrabbr is that it allows all the feeds to be mixed, so there isn't a grouping of feeds. For example, if you have feeds from BBC and Fox Feedgrabbr shows a mixture of the two rather than all the feeds from BBC and then all the feeds from Fox. This gives a more balanced feel to the overall flow of information.  There are plenty of customisation options and feeds can be displayed in a scrolling method. However, many of the display options need to be paid for to activate. When uploaded to Blackboard, it worked in all browsers but I had to upload it using Internet Explorer. Only then would it display in all three. Despite this, an excellent service that I would certainly recommend.

5. Feedzilla. Feedzilla works differently from the other feed widgets tested. You can't put in your own feeds. Instead, you can select from a list of categories and subcategories. At a glance, it is not clear where this information is coming from, and that alone was enough to put me off. However, it could certainly be off benefit for those wanting to get a feed widget without having to search for feeds themselves. A lot of the feeds presented included images and you can choose from multiple sources. When tested in Blackboard it worked fine for Internet Explorer and Firefox but was very slow in Chrome.

6. Feederninja. This feed has a very sleek interface that looks very appealing and professional. However, the free service only allows one feed and there is very little customisation. In order to get the embed code you need to register (free). If you pay, then you unlock more options such as unlimited feeds and so on. As long as the embed code is uploaded into Blackboard through Internet Explorer, it displays in all three browsers.

7. WebRSS. If you don't want to register, you get one feed. If you're happy to register you can get multiple feeds. It's free to register. There are some themes you can select and you can customise them to an extent. The overall look is very clean but also very simple and it seemed to struggle with images from certain feeds – there was a space where an image should be, but no actual image. When tested in Blackboard, it didn't display anything in Chrome. If the embed code is uploaded via Firefox, it displays in Firefox and Internet Explorer.

8. BlastCasta. BlastCasta only accepts a single feed but it is a very fast way to create an RSS feed – the interface/workflow is very efficient. The resulting feed has some customisation options so you can tweak the display but it doesn't look as flashy as some of the others discussed here. It also had some issues with images in feeds – rather than display an image it displayed a broken image icon. Uploaded embed code (using the iFrame code) into Blackboard worked fine with Internet Explorer and Firefox but nothing was displayed in Chrome.

9. Novafeed. Novafeed allows for multiple feeds. The interface is well set out, with a 3 stage approach (stage 1: add and customise feeds; stage 2: review the results; stage 3: embed feed). There are lots of customisation options, including set themes to get you up and running quickly. Some settings work better than others (animated options were very jerky when tested) and the overall widget is heavily branded. Despite that, it's a very quick and easy way to get a feed widget created. When uploaded into Blackboard, results displayed in Internet Explorer and Firefox but not Chrome. It should also be pointed out that a security message appeared in Firefox which had to be clicked before anything was visible.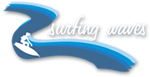 10. Surfing Waves. Before reading, please note that this widget is currently not able to produce an embed code. Hopefully this will be rectified in the future as it's a nice site that creates multiple feeds (up to 5 at time of testing) with some very nice design templates. The templates look clean and well set out and the scrolling options work smoothly. One to bookmark and check back in the future?
What next?
Now that you've read through the above information and have decided you want to use a particular feed, you may be wondering how to get it to work in your module. The following is a very quick guide to embedding your feed widget. If you need help, please don't hesitate to get in touch with the eLearning team.
From your selected widget site, copy the embed code. You can usually do this by highlighting the code and then pressing CTRL and C on your keyboard
Log into Blackboard, go to your module and make sure Edit Mode is set to On
Navigate to where you want your feed widget to appear
Hover your mouse over Build Content and then select Create Item
Enter a title
In the text box editor, click the button that says HTML
Now paste the embed code that you copied in step 1 into the pop up box that should have appeared. CTRL and V will normally do this
Press Update to close the small pop up box
Press Submit
Your widget should now display. If not, let us know and we can examine what's going on with you.
10 RSS Embeddable Widgets