There are a few ways you can subscribe to updates from LTE Online. Doing so means you don't have to keep coming back to the site to check for new content – you'll be told when something new is added.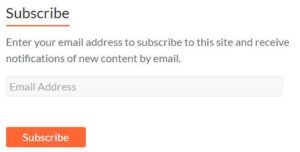 Subscribe via Email
The simplest way to receive notifications from the site is to sign up using the Subscribe widget that appears either on the right or the bottom of the page.
You'll be sent an email when new posts are added to the site. You can choose to manage your subscriptions (and unsubscribe) using the link in any of the emails you receive.
RSS Feed
Some of you will prefer to subscribe via RSS. Some of you may already subscribe to RSS feeds from other websites. When it comes to LTE Online, the advantage of RSS (over subscribing by email) is you can be more selective in what you subscribe to.

At the bottom of the page you'll see an RSS Feeds section, you have the option of subscribing to RSS – Posts or RSS – Comments, if you want to be updated on new content for the whole of the site choose Posts, if you'd like to keep up to date with just the comments and conversation choose Comments.
It's possible to subscribe to RSS feeds either for the entire LTE Online site or just specific Categories (News, L&T Blog, TEL Blog, etc). In fact any area of LTE Online where the URL (web address) ends with a "/" will allow you to subscribe to a feed. It's pretty easy to do. Just head to the section you'd like to subscribe to and in the address bar of your browser, simply append "feed" to the end of the URL. If you hit return at this point, most browsers will show you the feed – this is a good check to make just to be sure you're trying to subscribe to a legitimate feed address. Once you're sure you're OK, select and copy the URL (with the appended "feed" on the end) and add to your chosen RSS Reader.
For example, if you use Microsoft Outlook for your RSS feeds, subscribing to the Learning & Teaching Blog Category would go something like this:
On LTE Online, head to the Learning & Teaching Blog. In the address bar of your browser, add "feed" to the end of the URL.

RSS Feed in Address Bar

Select and copy the whole URL (Control + C or right click and Copy), including /feed that you added.
In your Outlook Mail folder you will find a folder entitled RSS Subscriptions. Right click the folder and choose Add a New RSS Feed.

Add a New RSS Feed
You'll be asked to enter the location of the RSS Feed you want to add to Outlook. Simply paste the URL that you copied earlier (Control + V to paste). You may be warned about adding feeds from sources you trust.
Once you've added your feed to Outlook, you'll notice that any feeds with unread notifications will appear bold with the number of unread notifications in brackets next to the feed name. Each new notification will appear as a message.