HEFCE Catalyst Fund Project
Project Overview
'Enhancing employability outcomes through an immersive learning environment' is funded through the HEFCE Catalyst Fund call for small-scale, experimental innovations in learning and teaching.
The project aims to:
Rigorously assess the impact of an experimental approach to immersive online learning on the employability skills of specific undergraduate cohorts
Establish an innovative approach to engaging employers in the enhancement of learning and teaching, responding to regional employer demands for higher level skills and knowledge
Engage students in the innovation process through co-design and research
As part of the project, an immersive online environment, called Authentic Learning for Interview Experience (A.L.F.I.E) was designed using pedagogical principles of experiential learning and developed using professional standard media creation tools, in partnership with employers and students.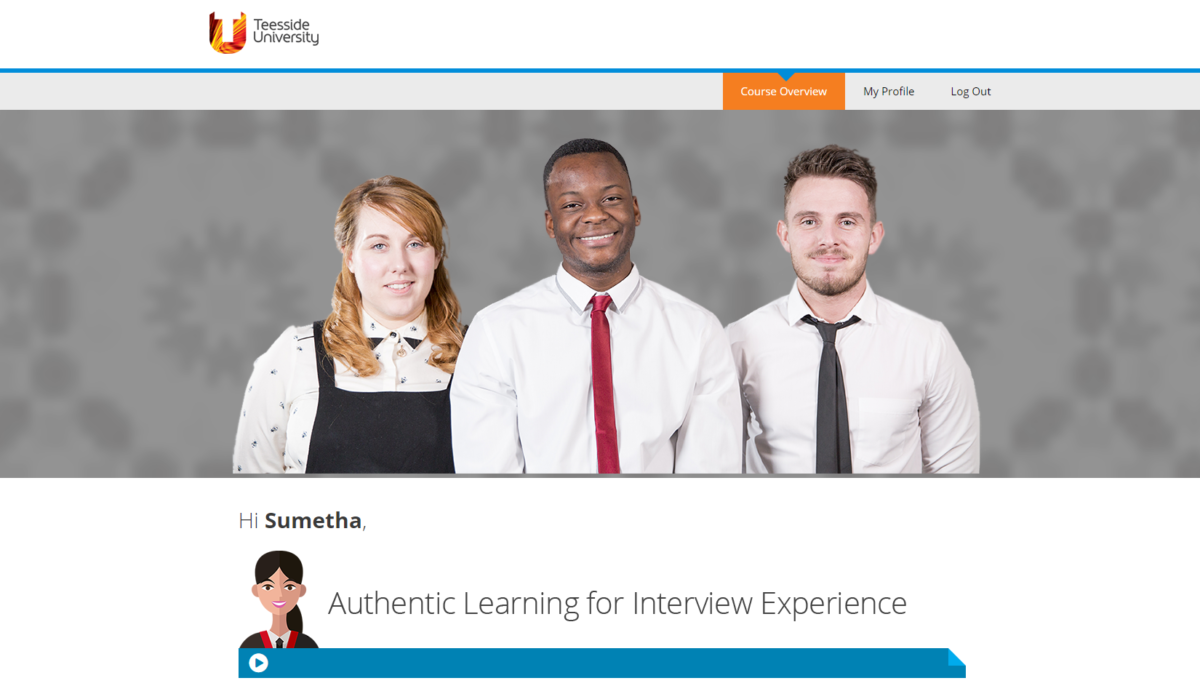 ALFIE Course Overview Page

Target Cohorts
The environment will be piloted with two level 5 cohorts in the first semester of the 2017/2018 academic year in order to assess how use of the environment, when embedded within curricula, might improve student's capabilities and confidence in the selection process for graduate level employment. The two target cohorts will consist of level 5 BSc (Hons) Sociology and BA (Hons) Accounting and Finance students.
If successful, the online immersive learning environment may be rolled out across the University.

Employers as Partners
A range of employers have been engaged in the project to date, including Hambleton District Council, actes, Nissan, Cleveland Police and HSBC, as well as Teesside University's own HR Department. Employer engagement will continue to be scaled over the coming months to ensure a broad range of suitable organisations contribute to measuring the impact of the immersive learning environment during its operational phase.


The Environment
The tool is designed to recreate a realistic immersive learning experience, using video of actors to emulate first person persona for learners to engage with. Furthermore, in selected stages, the tool enables learners to record video responses to interview questions and retrieve it to reflect on their answers at a later stage. Additionally, built-in assessments, feedback and remediation loops within the environment offers opportunities for learners to self-assess their understanding. Key documents are embedded at appropriate stages so learners can read them in the context of the practice.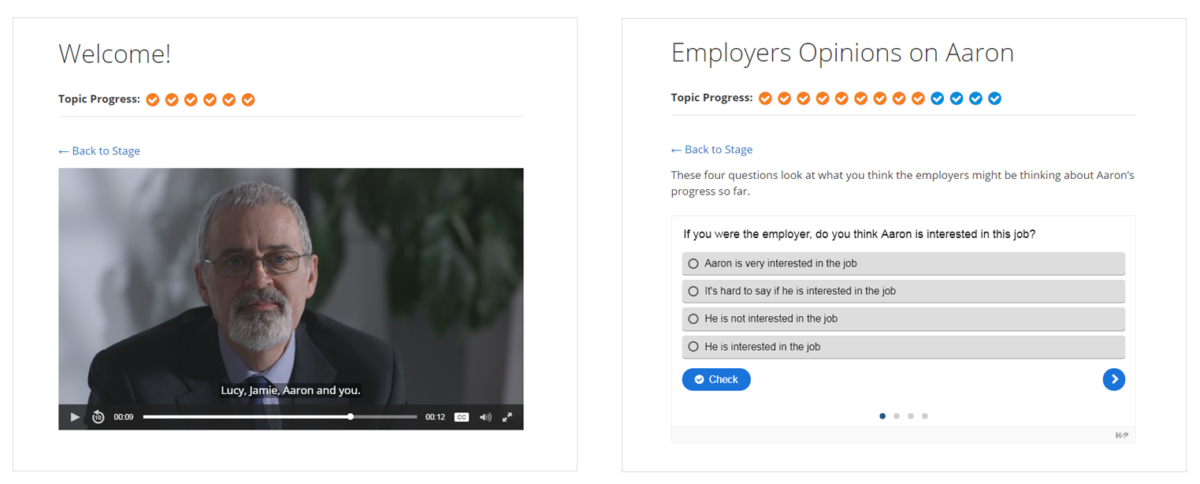 Stage 1: Video of interviewer welcoming candidate to the interview  (left) and Stage 3: Quiz reflecting on a fellow candidate's action
The core environment is built using the WordPress platform utilising LearnDash course builder plugin, which can be integrated seamlessly with the institutional VLE. A wide range of interactive learning activities were created using Articulate Storyline and other open source resources addressing students' diverse learning needs. Additional plugins enable tutors and administrators to gather meaningful learner analytics, including the completion rates for each activity along with time on task, collected at programme level. Learners constantly receive visual feedback of their progress, completion rate and achievements through the various features present within the tool.
The alpha and beta testing was completed in June and minor amendments were made based on the feedback from the staff and students who tested the tool. The project is progressing according to schedule, with activities currently focussing on technical enhancements, based on feedback from employers, students and the Careers team. Upon completion, the environment will be accessible to both graduate and current students.