Georgia is a second-year BSc (Hons) Forensic Psychology student. Starting university at any age can be scary, especially if you don't know anyone. It can be daunting going into lecture theatres full of people you don't know. But don't worry, it's completely normal to be nervous. Georgia has pulled together her top tips on how to make friends at university.
Facebook groups & group chats
Before the academic year starts, many applicants join Facebook groups and WhatsApp group chats are formed to get to know other Teesside University applicants. You can find these pages by searching on Facebook, for example, 'Teesside University Freshers 2021/2022' or 'Teesside University Applicants 2022'. Keep a lookout for these groups and once you have joined, you'll be able to get in touch with everyone else who is starting the same year as you. Joining course-specific group chats and pages gives you the chance to get to know your classmates before your first day, so you don't have to worry about sitting on your own.
Welcome week
You spend your first week getting to know your way around the university campus, this is called Welcome Week. This can be quite stressful at first, trying to find the correct room and building can be difficult. Instead of looking on your own and being late… ask! Whether it's people you recognise from your induction sessions or just people around campus, everyone is always friendly and are more than happy to help you out, and it's an easy way to make friends.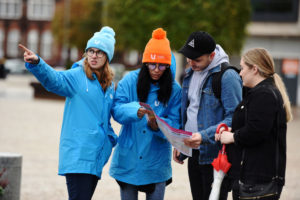 Everyone is a first-year once
Just remember that everyone is in the same boat as you, everyone on your course will probably be new to campus and have just as much of an idea about what is going on as you do! But most importantly all students have been in their first-year at least once, so no student will mind giving you a hand because they were in your shoes a few years ago.
Get chatting
When you are in your lecture or seminar the best thing you can do is introduce yourself to anyone sitting next to you, now I know what you are thinking: 'Sure! There's no way I am going to be able to do that…" But trust me, everyone is as nervous as you. Just take a deep breath and say something as light and breezy like 'Hi, I'm Georgia it's nice to meet you" or "I'm looking forward to starting this module" or "It's freezing in here, can't they turn the heating up?".
These conversations might end as quickly as they start…but they could also blossom into great friendships! I did this for every class I had for the first month of uni and out of all of the conversations I had some were flops and I haven't spoken to the person since, but some have turned into some great friendships. What's great about class-specific friendships is that it can be as simple as agreeing to meet outside before the next class and go in together or saving the other a seat and that might blossom into study buddies or meeting outside of campus times. So, take the step to introduce yourself because the worst-case scenario is you just don't get along and you don't speak again – no harm done!
Attend Freshers' and be social (if that's your thing)
Let's get onto the social side of university… Freshers' Week. To all my non-drinking friends reading this, please don't skip this chapter because Freshers can still be fun and important. Freshers is not all about getting drunk and staying out late and going to your classes hungover, while it is for some, it can have a very different meaning to someone else.
Freshers has lots of events during the day and night on campus, lots of freebies, and pizza. These events are paramount to making friends, you can bond over your love for pizza or talk about how hilarious Jack's karaoke cover of Wrecking Ball was. Just involve yourself in what everyone is doing. If there's a spare seat – sit in it and introduce yourself. If you are in the queue at the bar or the pizza stand – introduce yourself to the person standing behind you.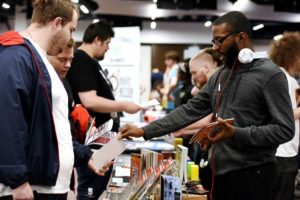 Clubs and societies
If you're still not convinced by Freshers, then my final tip might just be right for you. Clubs and societies! Teesside University has many clubs and societies, most of which are created and ran by students, like you, with an interest. Whether it's a sport that takes your fancy, a horror movie or true crime obsession, or you want to play Quidditch with the 'Leaky Cauldron Harry Potter Society', there are so many to choose from. There is usually a Freshers event dedicated to introducing you to these, so you can go along and speak to people who are members and see if it's for you. Find out more at tees-su.org.uk.
Finally, if after searching through all of them none are quite right for you, then it's very simple to make your own, it's likely that there will be people that will have the same interests as you do.
By Georgia Wright.