About me 
I'm Nathan Liddle, a Teesside University graduate who studied for my undergraduate and postgraduate degrees here. I studied Sports Therapy at undergraduate level and Physiotherapy at postgraduate level. I'm currently studying for my PhD alongside working at the university as a Lecturer in Physiotherapy and an Admissions Tutor. I applied to volunteer at the 2022 Commonwealth Games because I wanted to represent Teesside University at a global event and to showcase my skills whilst meeting like-minded professionals.
The Games is the biggest event Birmingham has ever staged and will be talked about for many years to come and it was fantastic to be a part of that.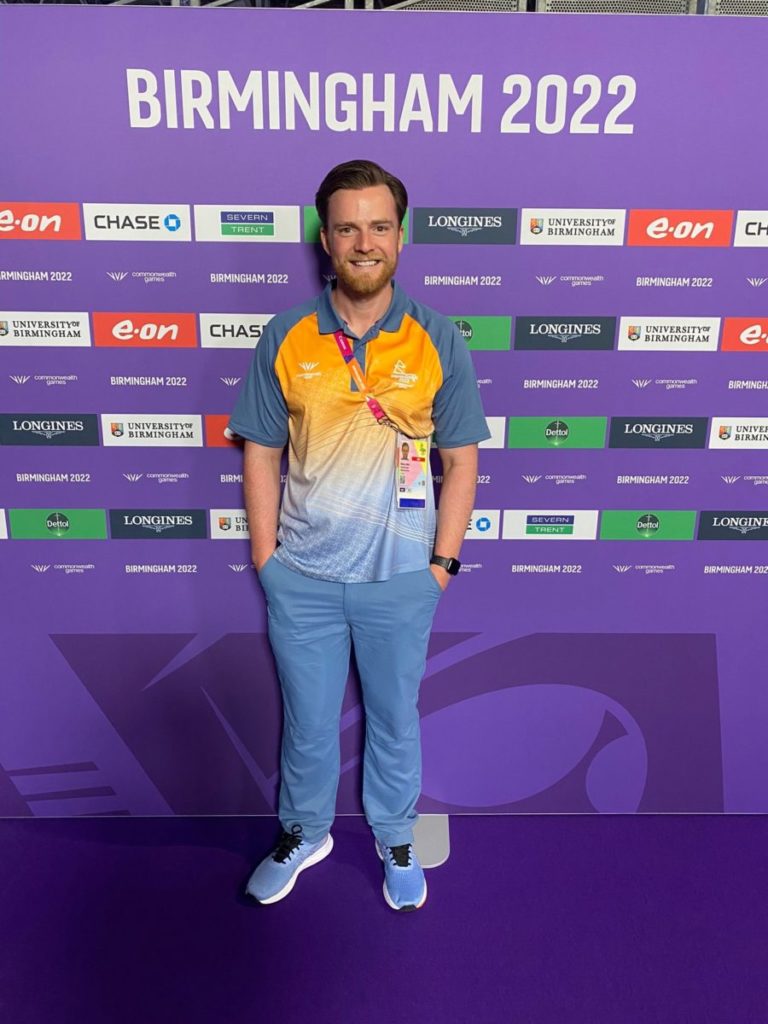 Application process
Applications for major sporting events such as the Commonwealth Games usually open 18-24 months before the event. I created a profile for the application process including photographic ID, ID verification and answering some simple questions about why I wanted to be a volunteer and what skills I had that I could offer.
Once the application was processed, the next stage of application began (there was a long wait until this point, which can be quite unsettling as you don't hear anything in this stage). I was invited to a face-to-face interview in Birmingham where we had an information session, a look around some of the venues that would be used during Games time, and an interview. The interview process was initially general questions about my personality & what skills and attributes I could contribute to the Games. As I was applying for the medical team, the interview was then directed to some generic medical questions and scenario-based examples of some of the work I had done historically. This was a great chance to meet some of the other volunteers and listen to other people's stories and why it was important to them.
Pre-Games
Before the Games, there were a couple of key training events to attend. Role-specific training and venue-specific training, both held in person in Birmingham. The role-specific training was a half-day session and involved people from various sectors (medical, media, supporter services etc.) and we were each given brief details of how our specific role would look and what the expectations would be. My venue-specific training was held in the NEC arena, as I was based there for my role working with Boxing. This was an amazing chance to meet other volunteers and share stories and a great step to becoming a Games volunteer. After the training, it felt as though the Games were getting very close, and the excitement was rising. However, I did leave the training sessions not 100% certain about what I would be doing on a typical day at the Games.
Ahead of the Games, I was made aware of some private and unofficial Facebook pages that were being used by volunteers to help share information in the build-up. I found those groups very informative and most of the members were very helpful and accommodating in offering advice. There were lots of volunteers with previous experience of volunteering at large events and also locals who had lots of insight into Birmingham and the midlands generally.
Something I hadn't considered when I started on my volunteer journey was the cost of volunteering. Thankfully Teesside University supported me and allowed me to take time off, but I did hear stories of some volunteers having to take unpaid leave. There were several other costs to be considered given that I am based so far away from the host city. Travel and accommodation are usually the responsibility of the volunteer, including the logistics and the cost. The Facebook groups and certain websites were very handy when trying to source accommodation and travel options. I eventually booked some student accommodation in Coventry and a return train ticket. The total cost for my travel & accommodation was in the region of £500-£600, so it is worth considering the financial implications of volunteering if it is something you would be interested in. On the flip side, lots of volunteers were local or had friends/family they could stay with which dramatically helped to keep their costs down.
During the Games 
During the Games, the transport was free when displaying your game accreditation, and all meals were included when working a shift. There was a selection of sandwiches, wraps, salads, fruit, and cakes. I was working in the athlete services medical team which meant that I got to work with some amazing professionals including sports massage therapists, physiotherapists, doctors, paramedics, anaesthetists, nurses, and many more. Working as part of the athlete medical team gave me extremely close access to the amazing athletes who were competing and allowed me to chat with them and provide treatment to those who requested assistance. Another great perk of being in the field of play team was that we got to watch the boxing action from ringside, we were about 5 meters from the ring and had a great view of all the action. When I wasn't on shift, I was watching various sports and trying to soak in the atmosphere in the fan parks and around the NEC precinct.
After the Games 
I have kept in touch with many fellow volunteers. Using Twitter, Instagram and LinkedIn I have been
able to connect with volunteers and maintain contact long after the Games have finished. Furthermore, some volunteers have asked to come and teach our students at Teesside University – something I am currently arranging with them. On a personal note, I have been offered a part-time role by one of the other volunteers in my team. I also had the chance to work with a professional athlete and there have been discussions about me joining their team on a longer-term basis (watch this space!). The connections I made whilst working at the Games have given me amazing opportunities and plenty of memories that will last a lifetime.
Advice to anybody considering volunteering
My advice to anybody considering volunteering would be – GO FOR IT! It was one of the most amazing experiences of my professional life with the addition of some job opportunities coming as a bonus because of networking with like-minded professionals. Make sure you plan ahead and you are prepared for the application process for events as large as the Commonwealth Games and make the most of every interaction – you never know where it could lead.
By Nathan Liddle