Whether Teesside has always been your home, or you have moved here to study, the campus and nearby town centre will be familiar territory.
If you have only recently settled in Teesside, how familiar have you become with your adopted abode –  and how far afield have you ventured from the campus? And even if you're native to Teesside, how well do you really know the place you call home?
For most of us, the campus and surrounding town centre shops are places we are likely to venture to most days. But there may be a few places on our doorstep which you've yet to visit or aren't as familiar with.
Teesside really does offer something for everyone, from parks to beautiful coastline and breath-taking countryside, to bustling towns and quaint villages.
Parks
Visiting a local park provides a perfect opportunity to get outdoors. Whether you opt for a leisurely walk, a more energetic jog, want take some time out with a book or pack a picnic with friends, our area has a plethora of parks to enjoy.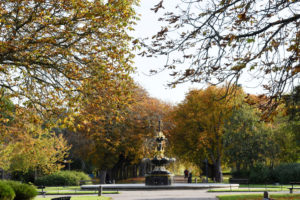 Among them is Albert Park  in Middlesbrough, which offers an oasis of calm not too far from the busy town centre. Like many local parks, it's home to a weekly Park Run and is the perfect place for a meander along the pathways and around the lake. A little further out of town, Stewart Park,  in Marton, includes the Captain Cook Birthplace Museum.  Also home to a domestic animal enclosure and part of Askham Bryan College, the park hosts regular famers' markets and over the years has provided the venue for major BBC Radio One music events.  Meanwhile, over in Stockton, a walk around Ropner Park  brings to mind a bygone Victorian era, with its picturesque lakeside paths and bandstand. 
River Tees
Tees Barrage  is located on the banks of the River Tees, in between Middlesbrough and Stockton.  It provides another great venue for a leisurely stroll, and if you're lucky, you might see the canoeists and white-water rafters.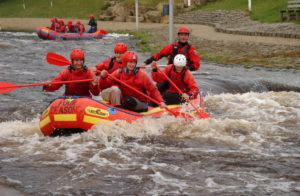 From the Barrage, you can walk into Stockton, heading towards the Millennium Bridge. Alternatively, head in the opposite direction towards Newport Bridge and into Middlesbrough.
If you venture even further along the River Tees towards Middlesbrough, you'll come across Teessaurus Park , the location for a family of life-size dinosaur sculptures. It's a great place for a picnic and the Teesdale Way also passes through this route. Wander further along the paths along the river, or meander through the industrial backdrop along a main road slightly inland, to reach the mighty Transporter Bridge and Riverside Stadium, home to Middlesbrough FC.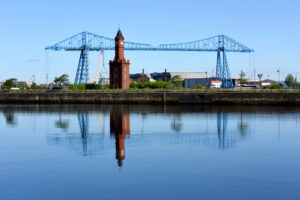 Coast
We have plenty of seaside towns along the coast, just a short car, train or bus journey away from our campus. If you head to Redcar, you can expect plenty of traditional arcades, fish and chip shops and the area's famous lemon top ice creams. Redcar also has its own vertical pier. In contrast, nearby Saltburn has a Victorian pier and is a top destination for surfers.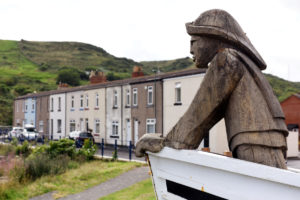 Not far from Saltburn is the beach at Skinningrove, known as Cattersty Sands, which is often referred to as a 'hidden gem' as it's nestled away and sheltered by stunning cliffs. 
If you fancy taking in some history while enjoying a bracing seafront walk, a little further afield is Hartlepool Headland. From the little car park at St Hilda's church, you can follow the Headland Story Trail, which features information boards each telling a fascinating story about the area's rich maritime history. There's also a chance to explore the town's military history at The Heugh Battery Museum. 
Countryside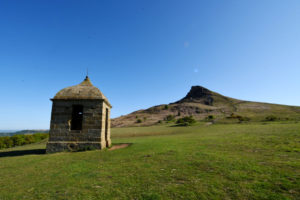 Roseberry Topping is possibly one of the best-known natural features when thinking about our region's rural beauty.  There are plenty of paths and trails leading to the summit, suitable for all ages, and for those who still want to keep walking, you can follow the Cleveland Way and climb to see Captain Cook's Monument, a 16 metre high obelisk erected on Easby Moor in honour of renowned explorer and navigator James Cook.
Hopefully some of these suggestions will whet your appetite when it comes to exploring our magnificent region, as there are plenty more things to see and do and a massive amount of other places which could also be mentioned here.  Which are some of your favourite places to visit around our region?