After recently completing my placement as a student dietitian I thought I'd share a bit more about my experience. My placement was 10 weeks and took place between August and October 2020, I was based in both an acute hospital and community team.
Before starting the placement I was a mix of emotions from excited to apprehensive and also had a mind full of questions, many of which seemed a little silly to ask my course tutors or placement providers. However, at the time these 'silly' questions managed to consume so many of my thoughts! So I'm hoping this post will help some of you that may be feeling similar.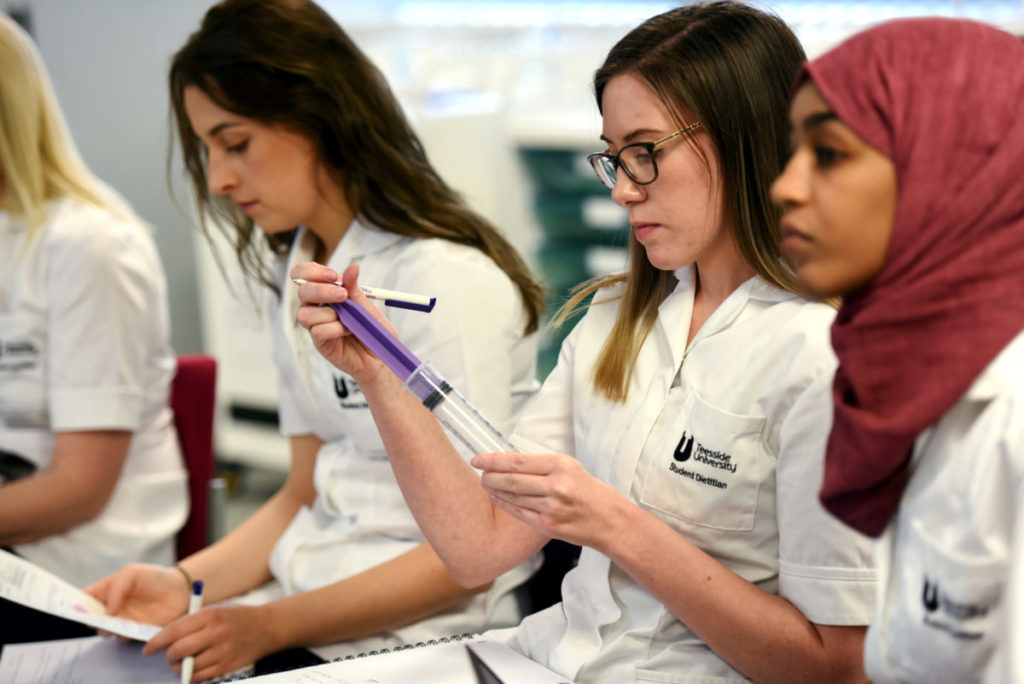 My top questions before starting placement                      
1. How should I prepare and what should I revise?
Usually, placement educators are well prepared and will email you in advance to let you know specific details of where to meet on the first day, who you will be working with and might even send out a timetable for your full placement. This will give you an idea of the teams you will be with and areas that might be worth revising. Regardless I found it useful to look over key topics from Semester 1, such as type 2 diabetes, obesity and malnutrition. I also made some crib sheets of key information, for example, the nutritional composition of common foods, key questions to prompt taking diet histories and equations for calculating requirements. I organised these in a file along with my PENG guide, a calculator and lots of pens! Remember these crib sheets don't have to be complete; you'll add to them as you progress throughout the placement and no doubt your placement provider will provide some specific handouts.
2. Do I have to wear PPE all day?
I imagine the advice on this is constantly changing. Whilst I was on placement it was compulsory to wear a medical face mask at all times (apart from when eating lunch) and if I was expecting to be closer than 2m to a service user  I was also required to wear a visor, gloves and plastic apron. The trust provided full donning and doffing training during my induction week and my supervising dietitians helped keep me right when out and about on the wards. I quickly adapted to wearing the face masks and often forgot I had it on. On many occasions, I ended up driving halfway home still wearing it!
3. Will I be expected to advise patients?
Placement educators are really good at easing you into this and gradually increasing your responsibilities as you develop and gain confidence. At first, I would just introduce myself to the patient, then I started taking diet histories and by the end of the placement, I would often go to the ward independently to gather the information and speak with the patient. You will not be expected to carry out the full consultation independently on your first day. However don't be afraid to give things a go, it's likely you will feel a little nervous at first however you will improve with practice.
My top tips for making the most of your placement
Be prepared. Try to establish a good routine of waking up and going to sleep at similar times. Expect to be more tired than usual for the first couple of weeks. This is only natural as your body is adjusting to the new work hours and you will be taking in lots of information. Spend a bit of time each evening making sure you are prepared for the following day (what you need to take, who and where you are meeting, consider travel time and directions and parking).
Find a meal routine that works for you. Maybe you're lucky enough to live at home and have your packed lunch and dinner made for you each day. However, I'm guessing for most this isn't the case. So finding a routine that works for you is important to stay healthy and often saves a lot of time. This might be batch cooking on a weekend or preparing a ready to go breakfast such as overnight oats or homemade granola bars. Also, remember to take a large water bottle with you and try to refill throughout the day. Hospitals can be very warm so its important to stay hydrated.
Be yourself and make yourself proud! It's normal to be nervous, just remember your supervising dietitians have been in your shoes, they know how it feels and they want you to do well. Don't be afraid to ask if you're unsure and let them know if any unforeseen problems arise during your placement. It's natural to compare your progress to that of peers but try to remember everyone progresses at different speeds and we all have good and bad days! So even if today isn't going as well as you hoped as long as you're trying your best chances are tomorrow will go a lot better!
I hope this post has helped some of you and put your mind at ease. If there are any questions I haven't answered please feel free to ask away in the comments below or alternatively share your tips for making the most of placement!
Kirsty.