If you're considering applying for university, you are likely to be starting to research the UCAS application process. You have probably already discovered that your personal statement is a key part of that. Laura is here to talk through a few things you can do to make sure you stand out from the crowd!
A personal statement is a written piece of text, personal to you, to support your application to university. Your personal statement should be no more than 4,000 characters (which is about 500 words).
If you're ready to apply to university, get started on your personal statement – and make sure you allow plenty of time for checking and editing.
You may feel daunted by the prospect of writing a personal statement but there's lots of guidance available to help you get it just right. It's a great opportunity to tell the universities you're interested in why you are a good candidate for the course(s) you're applying for.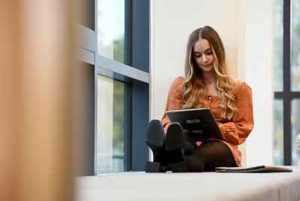 Quick checklist
– Explain why you have chosen your subject and what interests you about it.
– Show that you understand what your chosen subject is all about – and that you understand any related professions.
– Explain what interests you about your current studies.
– Highlight your work experience, placement or voluntary work and explain why this is relevant to the course you've chosen.
– Explain what you graduate ambitions are, if you know.
– Highlight your personal skills, such as communication, teamwork, organisation – make sure you provide examples of when you have demonstrated these skills, and how and why they will be useful to you at university.
– Highlight your academic achievements.
– Reference any other achievements, awards or programmes you have been involved in outside of school or college – this can also include summer schools, placements or taster events. Make sure you explain what you learnt from these experiences.
– Include your social, sports and leisure interests and how the skills and qualities you have gained from these interests will help you at university and beyond.
– Make sure your statement is original. Don't copy from a classmate or include false statements. You will be found out and you'll be doing yourself a disservice.
– Thoroughly check your spelling and grammar using software such as Word and Grammarly.
– Get your personal statement reviewed by your tutor.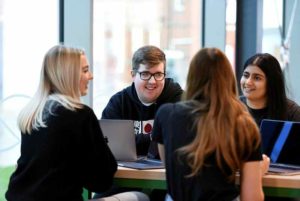 Great resources
Watch our videos about preparing for university
Universities are also available to help you get your personal statement just right and can offer online advice sessions – ask your tutor to get in touch with us to arrange this.
UCAS guide to writing a personal statement
Complete University Guide's tips on writing your personal statement
Got any questions?
Thinking of applying for a Teesside University course? Head to our online chat for guidance if you need it – live on our website00am – 4.00pm weekdays.
You can also head to our speak to a student to chat to Teesside University students about their experience of process and to ask them about the courses they study.