Charlotte Whitwell is studying Year 1 of BSc (Hons) Diagnostic Radiography here at Teesside University. Here she talks about her move-in day experience at King Edwards Square student accommodation. 
Upon arrival, I parked up on the square and headed over to The Curve building to collect the keys to my very own student house on KES. Whilst collecting my keys I also was given information about local doctors that I could join. This was really helpful as I had moved to the area from Scunthorpe. I was given a 'TEAM KES T-SHIRT' which we were asked to wear a few days later when meeting The Warden Team.
During this meeting, The Warden Team gave us a tour around and also covered the upper half of Central Halls. Some of The Warden Team actually lived in Central Halls which was great as they were able to give us detailed information about the accommodation.
After collecting the keys on move-in day, I was assisted by student ambassadors that helped me move into KES and gave me some helpful tips about the local area (and more importantly where to get cheap £1 pizzas from Dominos in the SU!). They also explained the SU was where I could sign up to different clubs and societies that the university has to offer on induction week.
Additionally, during induction week (at the SU) I found out lots about the restaurants available in the local area and what they have to offer. I even found out what a 'Parmo' is – Google it! It's definitely a dish you should try as it is Middlesbrough's signature dish that you can get from every restaurant on Linthorpe Road, which is just next to KES.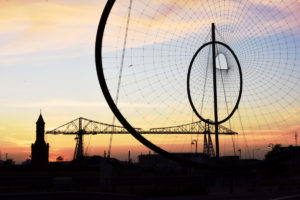 As well as Linthorpe Road's abundance of lovely restaurants, there's a Dominos, KFC, Tesco, Iceland, Weatherspoon's – you'll never go hungry. There is also a shopping centre and many clothing shops including Primark, Size, Topshop, and Psyche.
For more information on accommodation check out tees.ac.uk/accommodation.
Additionally, you can ask me anything on our 'Speak to Student' chat. I am available Fridays, 10.00am – 11.00am. Find out more here.