Aleeyah Mahmood is a first year LLB (Hons) Law with Business Management student. As we get closer to students returning to campus you'll be eager to learn more about the day-to-day life of a student. Aleeyah talks about her life as a Law with Business Management student.
I'm in the first year of my degree and I'm really enjoying it so far. Teesside University is such a welcoming, supportive and student-friendly learning environment. My course covers valuable content in the areas of law and business management. The weighting of the degree is 67% law and 33% business management.
What I love about my course
My course is great as it will allow me to progress to further training to qualify as a barrister. The foundations of legal knowledge are covered in-depth as well as the core principles of business management. My course is giving me the skills and knowledge I need to succeed in the graduate market. I can't wait to get there!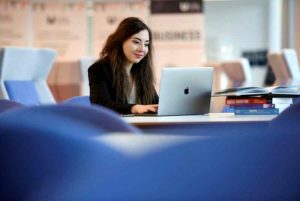 I love the fact that my course has a combination of business management and law modules. It's giving me a fantastic opportunity to prepare for a huge variety of careers. Graduates who understand the legal side of organisations have a clear advantage when entering the world of business and vice versa. I find my course very exciting because I'm examining real life cases.
I also love that I get to enjoy and make the most out of student life whilst studying. Although I spend hours in the library conducting independent study, I also make time to socialise with my friends, work part-time as a student ambassador, and spend time with my family. This course is giving me space to study independently as well as collaboratively.
Day to day life
My taught study schedule runs over four days. My typical daily routine includes attending lectures and seminars, carrying out independent learning, visiting the library and socialising once I have completed my daily study.  My university day starts at 9.00am for my first lecture. After my lecture I sometimes have a seminar scheduled, this is similar to a classroom group discussion. On the days where I don't have seminars I study independently or work with my class friends on assignments.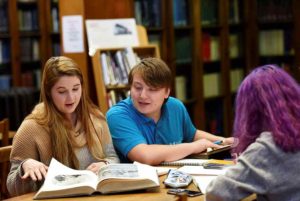 A bit more about my course
A great part of my course is the opportunity to build practical skills in the University's replica court. As part of this I've written arguments to support moot trial cases. A moot trial is an oral presentation which is marked. It's great being able to refer to my tutor as 'My Lord' or 'My Lady' during these trials! – Practicing in a replica court environment and using this sort of language has helped me to become accustomed to the process – which will be useful when I enter the world of work. I've gained many practical skills including how to analyse a problem, how to thoroughly research the relevant law(s) for a case, and how to present oral arguments.
My course involves a lot of reading, but I make the most of the Teesside Advance Scheme, which provided me with an Apple iPad, keyboard and £300 toward course texts at the start of my course. The £300 credit is spread across three years and has allowed me to get the texts I need to fulfil the reading on my reading list.
You can find out more about my course here.