The elusive ZX8BIT, often referred to as the 'Teesside Banksy' thanks to their concealed identity and flare for graffiti, is a powerhouse in street art. From a giant goose to a topless Mario, their work can be spotted throughout the Tees Valley.
Join us as we countdown ZX8BIT's best street art in the region and spill the tea on exactly where you can find it…
10. It's-a me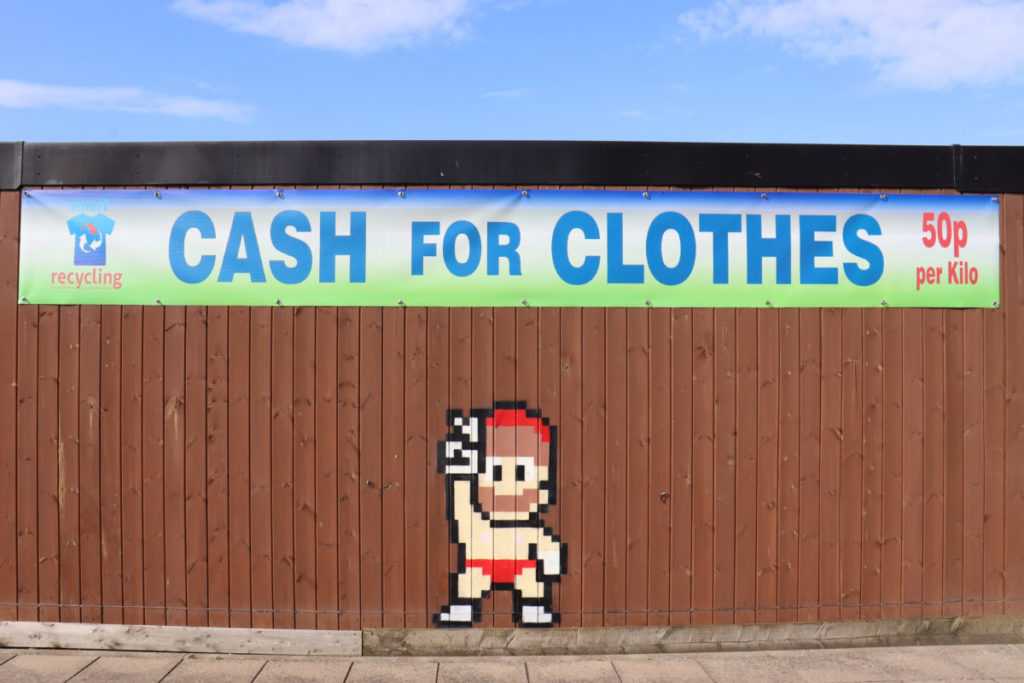 When it comes to great street art, it's location, location, location. And you can't ask for better than this.
A half-dressed Mario adorning a clothes donation point is nothing short of iconic. I'm just glad he still has his socks on…
Talking Teesside spoke to ZX8BIT about their work. They said: "It was roughly three years ago when I started the street art. I'd had the idea for pixelated spray can art and was excited to see how these video game characters would look interacting with the real world.
"I practiced for months in my garage, learning what works and what doesn't, making tons of mistakes and having many epiphanies, until finally I felt I was ready to take my stencils to the streets and begin painting."
See Mario for yourself at what3words///smile.dart.rift
9. Flanderchu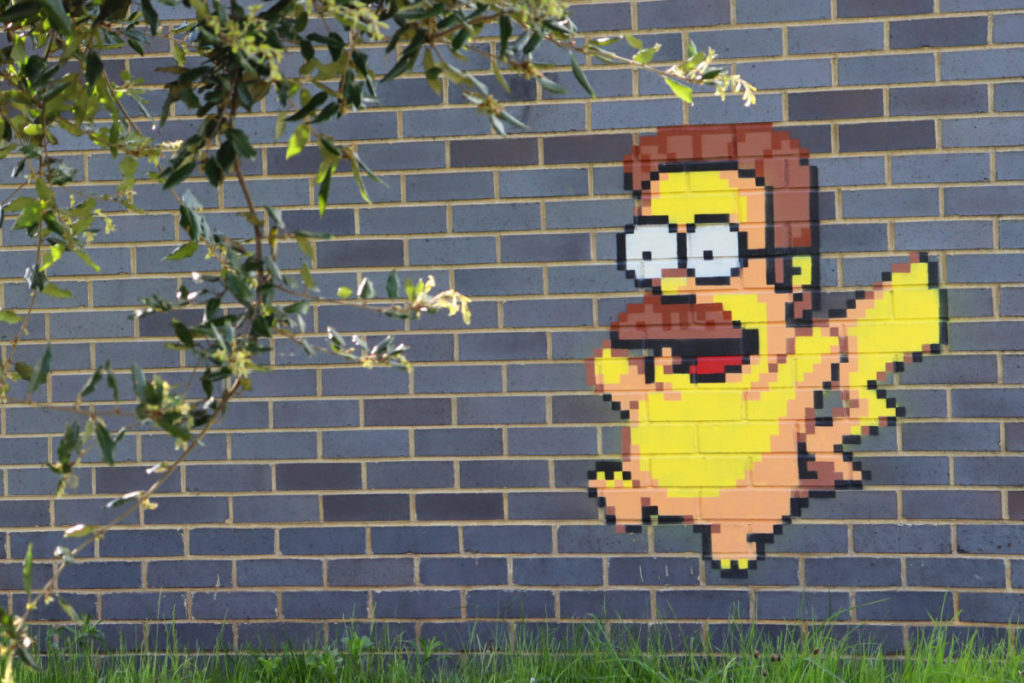 "Flanderchu was born out of two themes we were painting regularly at the time, The Simpsons and Pokémon," said ZX8BIT. "I thought a merging of the two would be funny, as if to suggest I'd forgotten where I was at with the Simpsons and Pokémon stuff and somehow painted the two merged.
"I took a little risk with it being quite an open (and well-marshalled) area, but that's all part of what we do."
It must brighten the days of all of the Middlesbrough College students who pass by every morning. Might we suggest a combination of Pokémon's Charmander and The Simpsons' Marge next? Charmarge.
Bask in its glory at what3words///pine.bath.from
8. Swapping Sweden for Normanby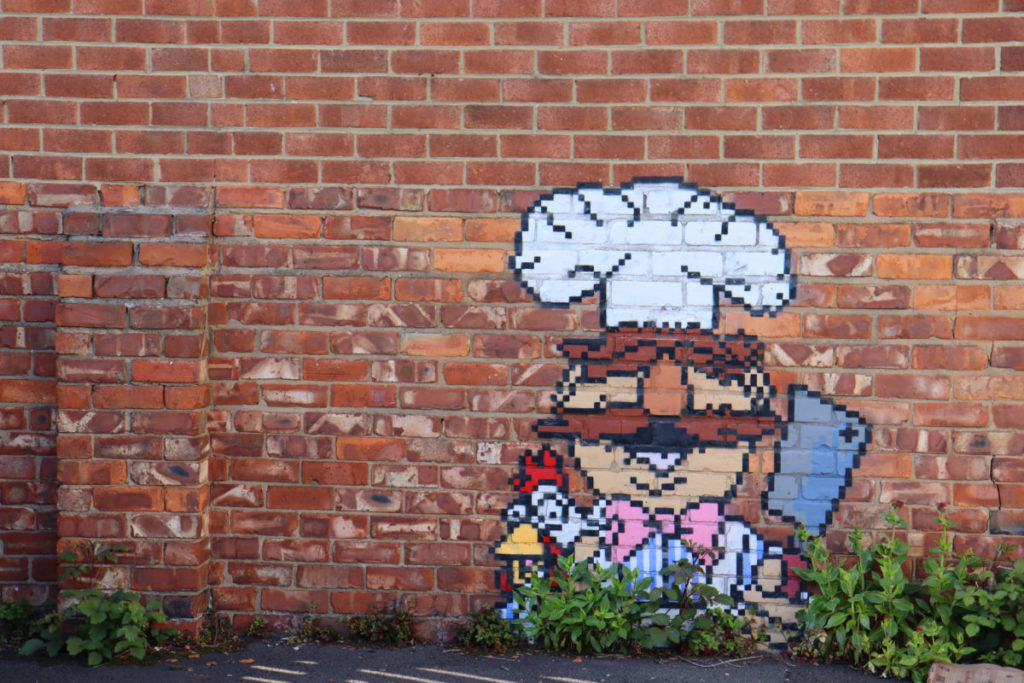 Having been spotted at Normanby Butchers, The Muppets' Swedish Chef is certainly far from home.
We can see that ZX8BIT thinks very carefully about where works best for their pixelated pictures – displaying the Swedish Chef wielding a meat cleaver next to an understandably concerned chicken on the side of a butchers is a stroke of genius.
And ZX8BIT must have really liked this spot in Normanby, as they chose to leave another piece not ten steps away. More on that later…
Head to what3words///door.camp.remind to see it up close.
7. Bricks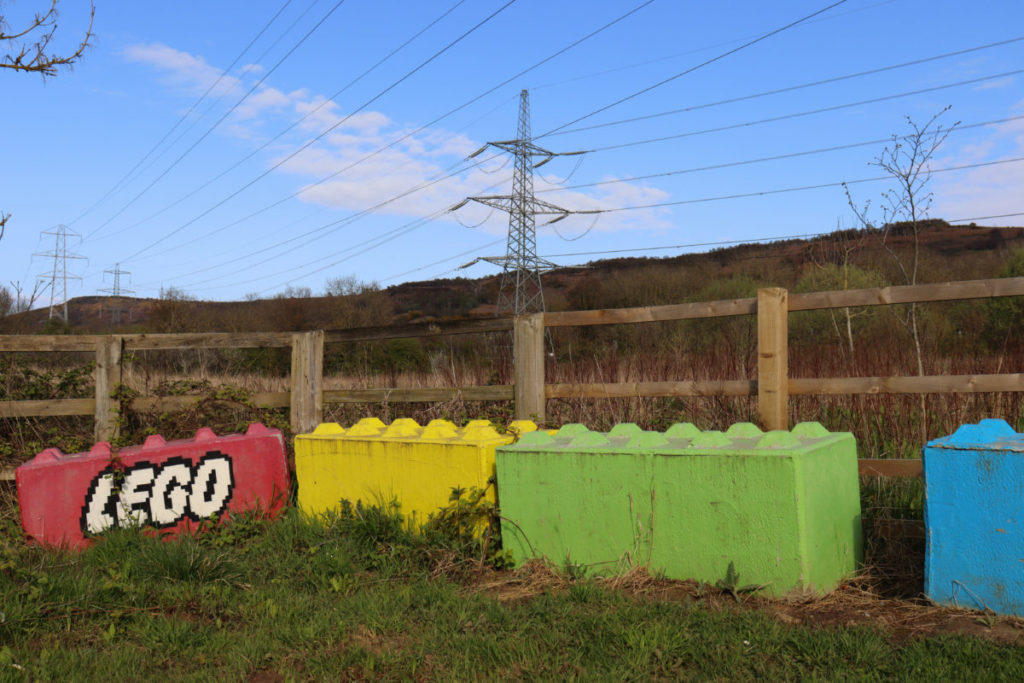 Clearly ZX8BIT took LEGO literally when they encouraged fans to 'rebuild the world'.
For a long time now, inexplicable grey building blocks have been littered by the side of the road along Flatts Lane, between Middlesbrough and Guisborough. It's nice to see that ZX8BIT has given them purpose in this way.
The street artist said: "I wanted to add colour to my town and inspire my people. I want to help put Middlesbrough on the map as a town that produces great art and great ideas."
Spot the upscaled LEGO bricks at what3words///drum.loft.items
6. Flawless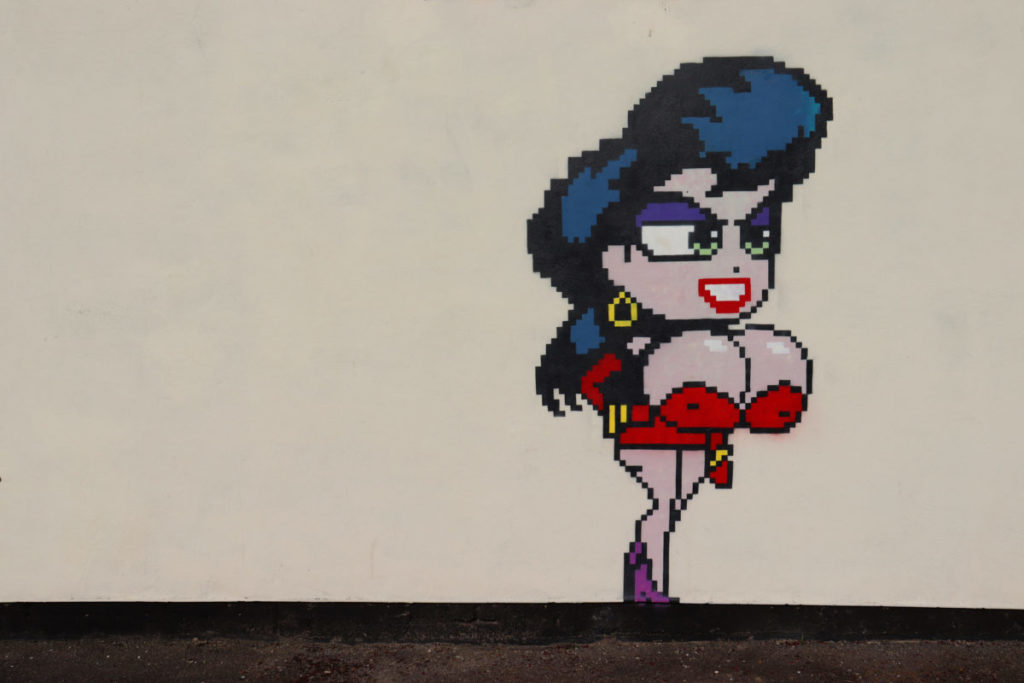 This eye-catching piece adorns Flawless Beauty Clinic in Normanby, not too far away from the LEGO bricks, and is a firm favourite for many fans.
When asked about their own favourite piece, ZX8BIT said: "I have a Mario piece that's enormous and detailed and will definitely be my favourite once painted. Unfortunately, I was chased by an angry farmer when last attempting this so I'm re-evaluating location on that one!
"A lot of weird s*** goes down when you're painting in the darkest corners of Middlesbrough in the early hours of the morning. I've been arrested, threatened, chased. It all comes with the territory."
Find it at what3words///bother.upper.along
5. Hole in one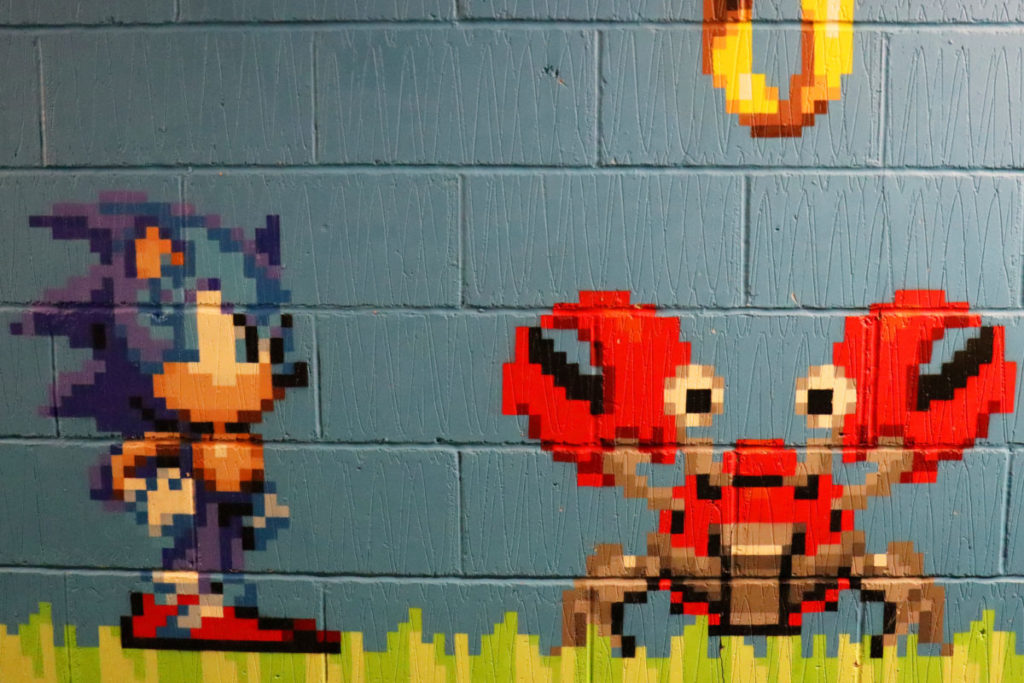 This next piece was actually commissioned, so no more stories of angry farmers or late-night arrests here I'm afraid.
In the mural, Sonic the Hedgehog can be seen facing off with his arch-enemy, Doctor Ivo "Eggman" Robotnik. It's part of the nostalgic video game-themed holes of Putter Chaos' crazy golf course.
ZX8BIT said: "My inspiration comes from my love of retro video games. I am a child of the eighties and so I've always been much fonder of Super Nintendo and SEGA Mega Drive than I am of PlayStation and Xbox. I spent a lot of my life hand drawing pixelated video game characters such as Mario, Mega Man and Sonic. Since this and so much of my art was being ignored, I decided to do something that couldn't be ignored – hence the street art."
Head to Putter Chaos at what3words///takes.badge.erase
4. Stranger things have happened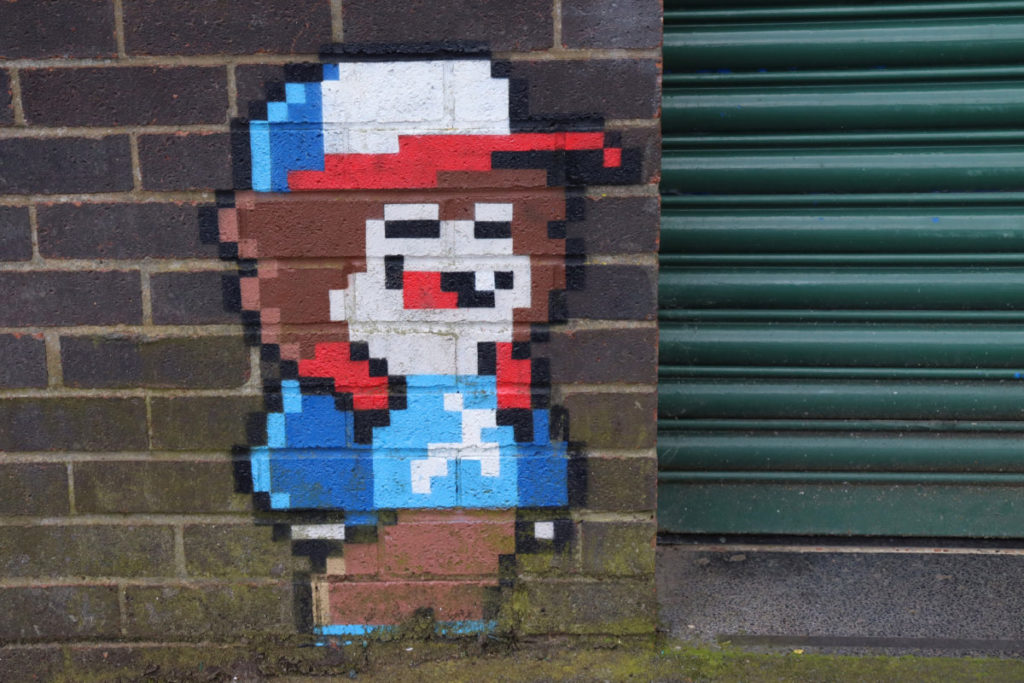 It's not often that you look at public toilets with a smile and comment, 'Wow, that looks amazing' or 'Ooh, I've got to take a picture'.
ZX8BIT is changing all of that with their Stranger Things-inspired artwork embellishing Guisborough's public toilets next to the Job Centre. Characters from the Netflix smash-hit, Eleven and Dustin, can be seen waiting outside.
Pay them a visit at what3words///aunts.frostbite.stressed
3. Who you gonna call?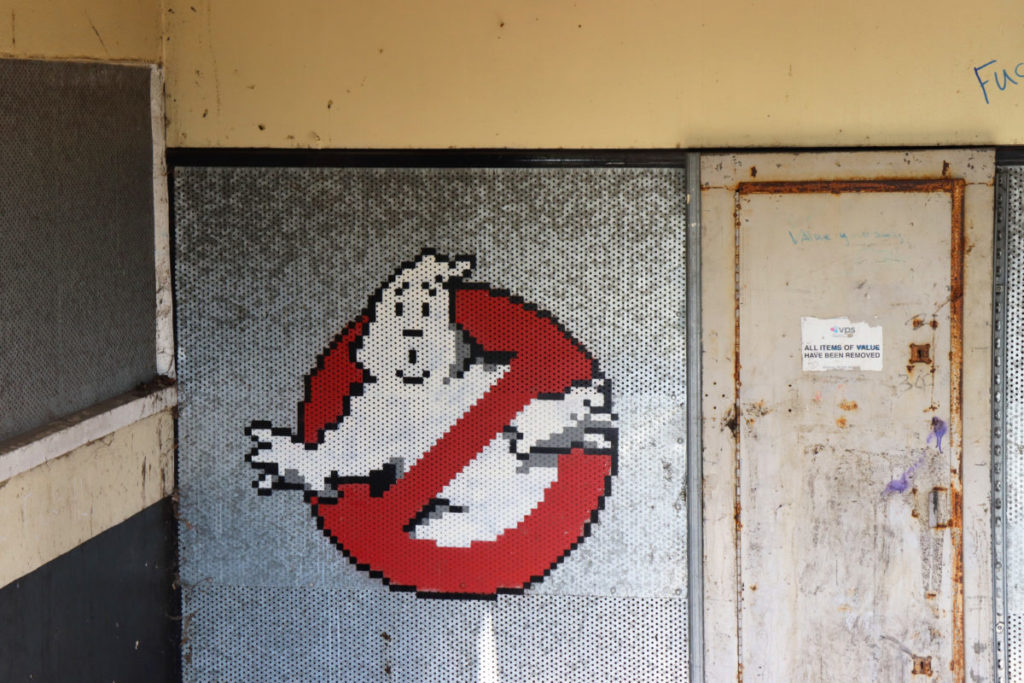 Ghostbusters is one of the best films ever if you ask me, so it's no surprise that its pixelated logo shot straight to number three in my Top 10.
ZX8BIT said: "Inspiring people is the most rewarding thing about what I do. I don't feel any great satisfaction in what I create (I wish I did). I like how it looks but I'm always reaching for bigger and better thus I never feel accomplished. Hearing that it makes a difference to people and brings happiness or inspires is everything to me."
The good news is, it's just ten steps away from the Swedish Chef at Normanby Butchers. So if you're going on a hunt for ZX8BIT street art, you can tick two off your list at once.
Where you gonna go? Use what3words///palm.sheets.action
2. Love not war
While I absolutely adore the sense of fun captured in images like Flanderchu, it's ZX8BIT's Make Love Not War which really gets me.
Depicting the Ukranian flag with a pixelated heart, it was created in response to Russia invading Ukraine in February last year.
I think this piece says a lot about ZX8BIT's character, so while we may not know much about them, we can get a glimpse into who they are and their values.
Find it at what3words///successes.blaze.gave
1. The mighty goose
In top spot, and my all-time favourite, is the Goose of Guisborough. It stands proudly, watching over the town and inviting people in. If the fact it stands at around 7ft wasn't enough, it's also a nod to Untitled Goose Game, which only makes it cooler IMO.
ZX8BIT said: "The goose in Guisborough is a favourite of mine. I lived close to that estate and upon seeing that wall I wanted to add something that I felt could be an iconic image when entering Guisborough. It was important for me to choose to paint something that suited the landscape.
"I actually painted the feet and it began to pour down, and so I didn't get it finished until a few days after. I hated the idea that I'd left a random set of orange goose feet on a wall…not that anyone would ascertain that's what they were. It turned out nice though. The Goose of Guisborough."
Take a gander at what3words///leave.deck.birthing
You can see more of ZX8BIT's work by visiting their website or Instagram page.
There are lots more examples of 'Teesside Banksy' artwork around the region. Which have you already found? Let us know in the comments…