Spring has finally sprung, and if you're anything like me you'll be looking forward to the sunny weather that's on the horizon. It's almost time to ditch the hot tea and coffee and turn to refreshing thirst quenchers that will see you through the warmer weather that we're treated to this year!
Follow along for 10 alcohol-free, summer-approved drinks that you can make at home which are bound to impress your family and friends. Thank me later!
1. Alcohol-free amaretto sour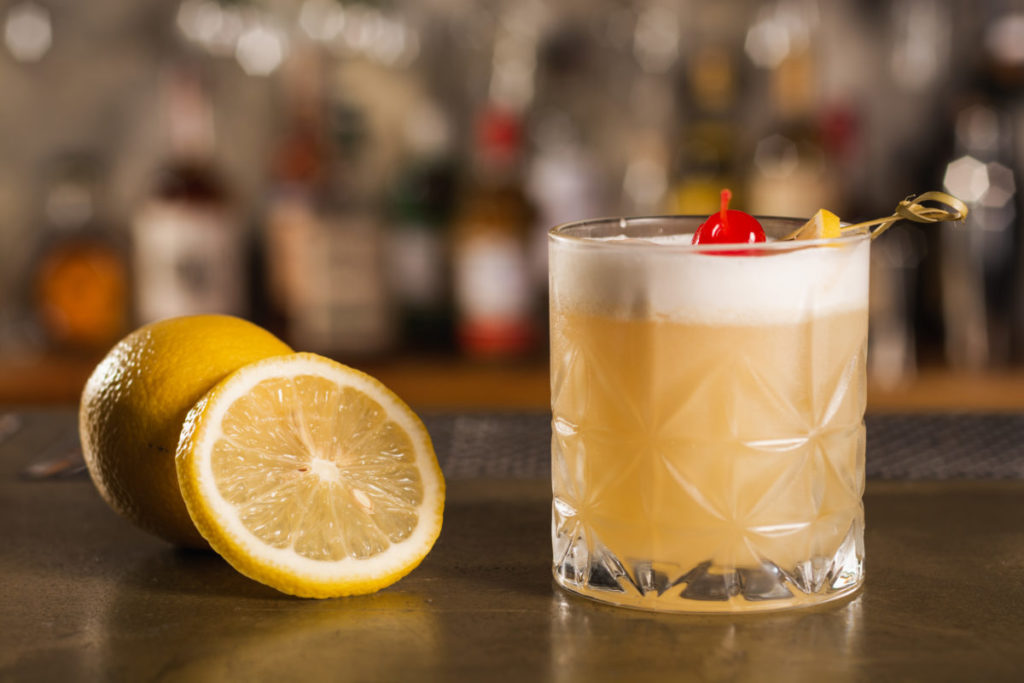 If you love an exciting blend of sweet and sour, this one is for you! And the great news is, you can enjoy all the flavour of an amaretto sour without the alcohol.
Ingredients: 100ml pineapple juice, 50ml lemon juice, ½ egg white, 10ml syrup from cocktail cherries (or more if you prefer), a few drops of almond extract, plus cherries to serve.
Method: Pour the pineapple juice, lemon juice, egg white, cherry syrup, and almond extract into a blender. Whizz a few times at a high speed until the mixture is pale and increasing in volume. If can use ice in your blender, add a few handfuls and pulse twice more to chill the mixture. Alternatively, you can stir in some ice after. Pour into glasses and garnish with cherries to serve. Yum! 
2. New York sour mocktail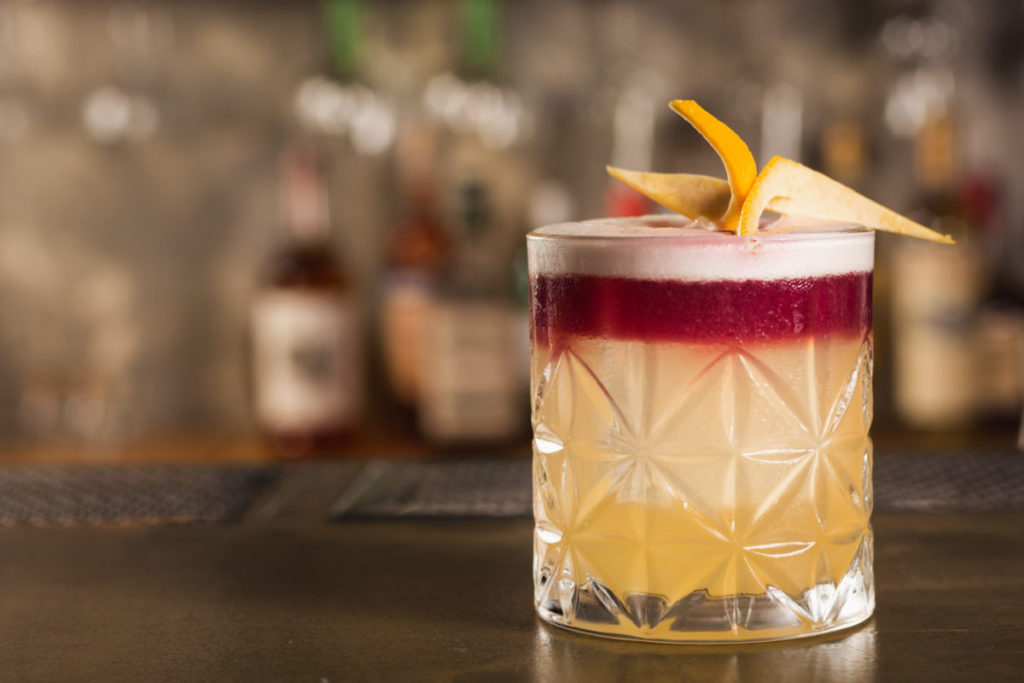 Is there anything more glamorous than a New York summer? Well now everyone can enjoy a taste of it with this recipe for a New York sour mocktail. With tea, pomegranate, lemon, and maple syrup, it's sure to be a talking point at your next gathering.
Ingredients: 1 tsp Assam tea leaves (50ml tea), a few drops of vanilla extract, 25ml lemon juice, 3 tsp maple syrup, 1 tbsp egg white, ice, 10ml pomegranate juice.
Method: Pour 150ml boiling water over the tea leaves, stir, and strain immediately. You're aiming for strong, not stewed! Mix in the vanilla extract and leave to cool. Then, pour the lemon juice, maple syrup and 50ml of the tea into a cocktail shaker. Stir the egg white with a fork to loosen it, then add 1 tbsp to the shaker.
Give everything a good shake until the mixture is frothy. Add a generous handful of ice and shake again. Double strain into a glass filled with ice. Add water to the pomegranate juice to make it up to 20ml, then slowly pour that into the glass, too. Let it settle for a moment – the juice will float just underneath the foam.  
3. Pineapple and lime mocktail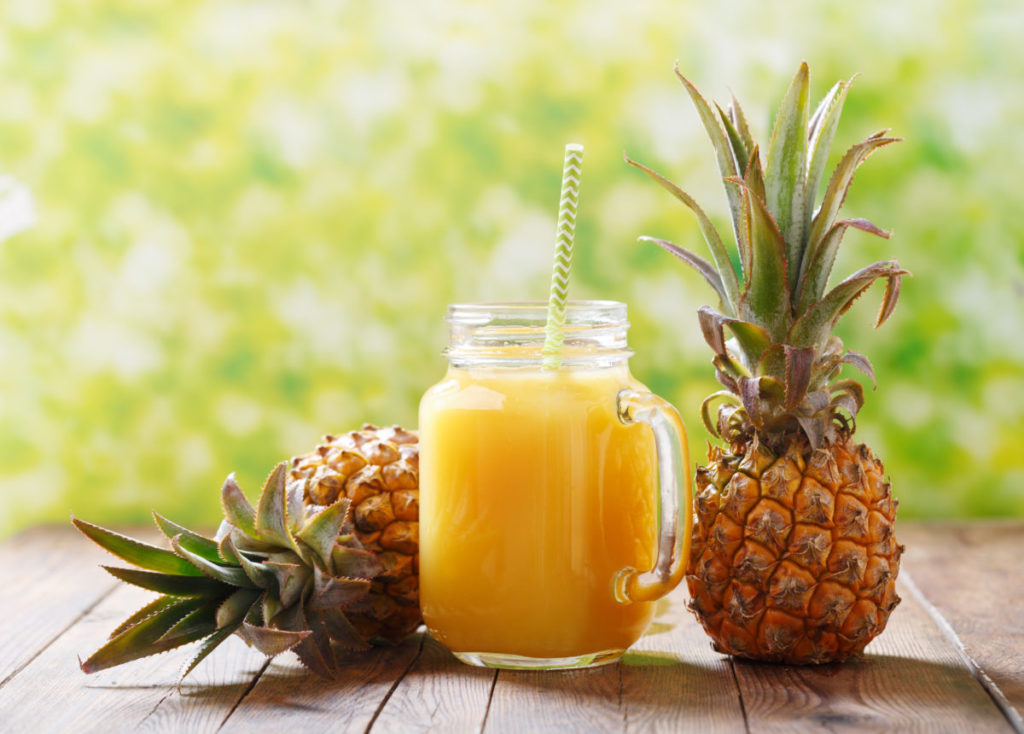 Bring the summer to any party with this glitzy pineapple mocktail. Funky jam jar glass optional!
Ingredients: 1 tsp clear honey, edible gold glitter, small bunch coriander leaves, juice 1 lime, 750ml pineapple juice, a handful of ice, 400ml tonic water (swap for soda water if you want it slightly sweeter).
Method: Dip a pastry brush in the honey and paint a line down one side of 4 tumblers. Sprinkle some edible gold glitter over the honey, dust off the excess, then put the glasses in the fridge. Meanwhile, finely chop the coriander leaves and add to a cocktail shaker with the lime juice, 100ml pineapple juice and a handful of ice. Shake together until the outside of the shaker feels cold. Strain into the glasses, add extra ice cubes and divide 650ml pineapple juice and the tonic water between the glasses.
4. Lassi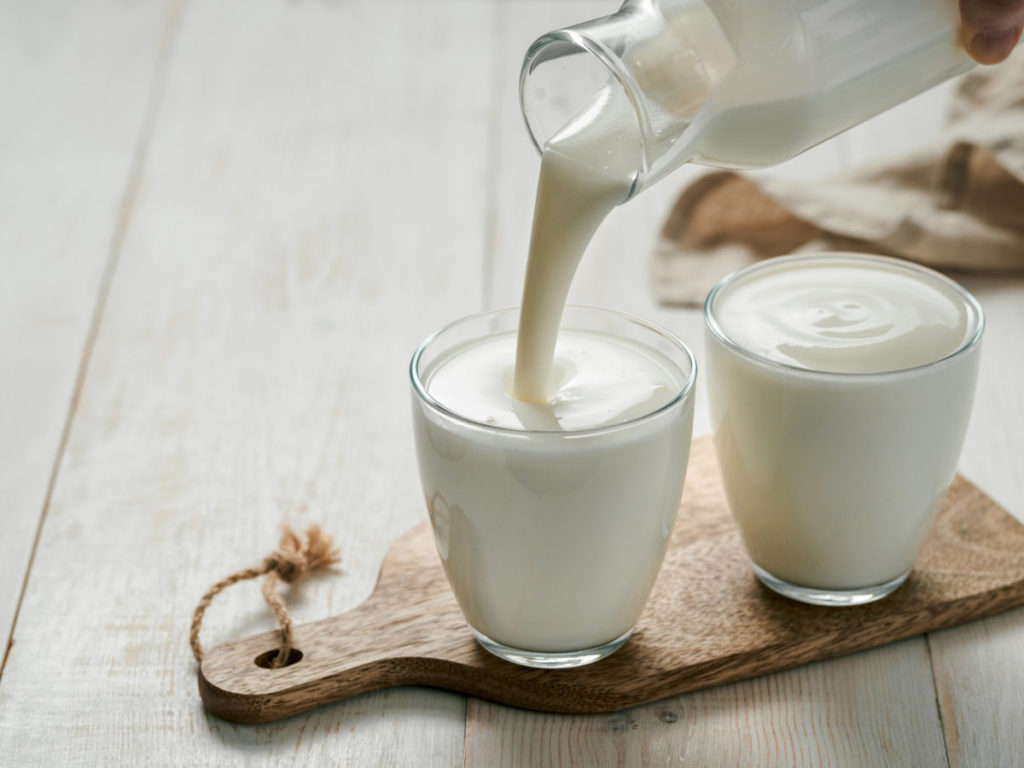 Discover this popular Indian beverage with a really simple recipe. You can adjust the amount of yogurt or water for a thicker or thinner consistency. 
Ingredients: Ice cubes, 1 ¾ cups plain yogurt, 1 ½ cups ice water, 6 cubes ice, crushed. 2 tsp white sugar, and a pinch of salt.
Method: Fill 6 tall glasses with ice cubes. Place yogurt, ice water, crushed ice, sugar, and salt in a blender, then blend until frothy. Pour over ice cubes in the glasses to serve and garnish with fresh mint if desired.
5. Mango shake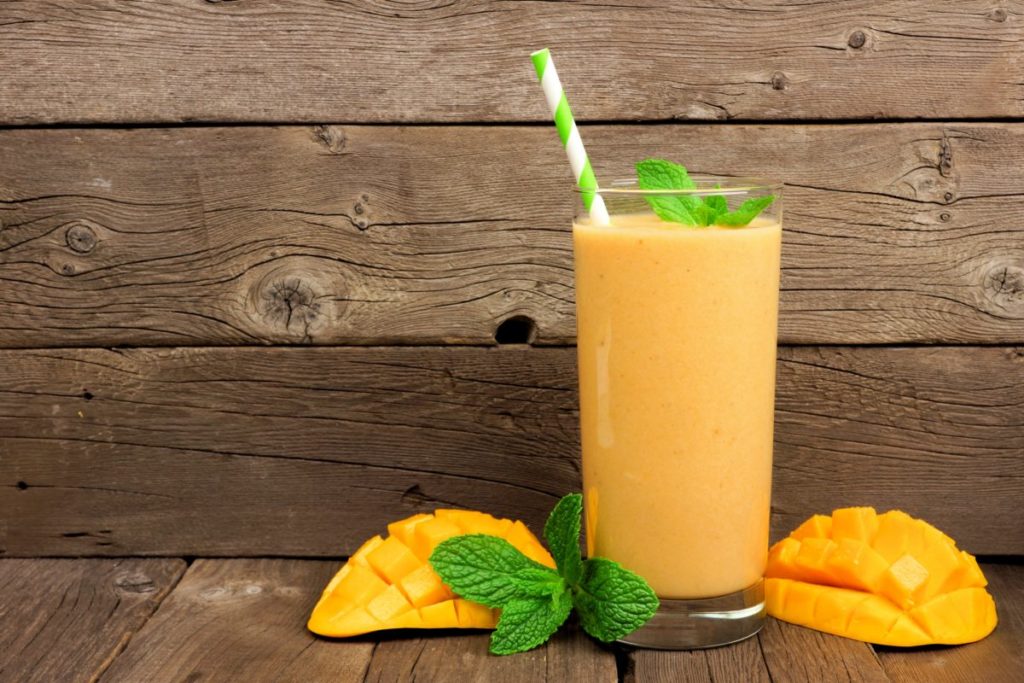 Mango shake is a popular beverage across India during summer – sweet and refreshing, it's the perfect drink to enjoy on a hot day. Here's an easy way to make this rich and creamy mango milkshake. You can make it with dairy or create a vegan version with coconut milk.
Ingredients: 2 large ripe mangoes (at least 2 cups), 1½ cups of milk, 1½ tbsp sugar, 2-3 ice cubes (optional).
Method: Combine all the ingredients in a blender and blend well until it's smooth and frothy. Easy peasy! 
6. Kiwi fruit smoothie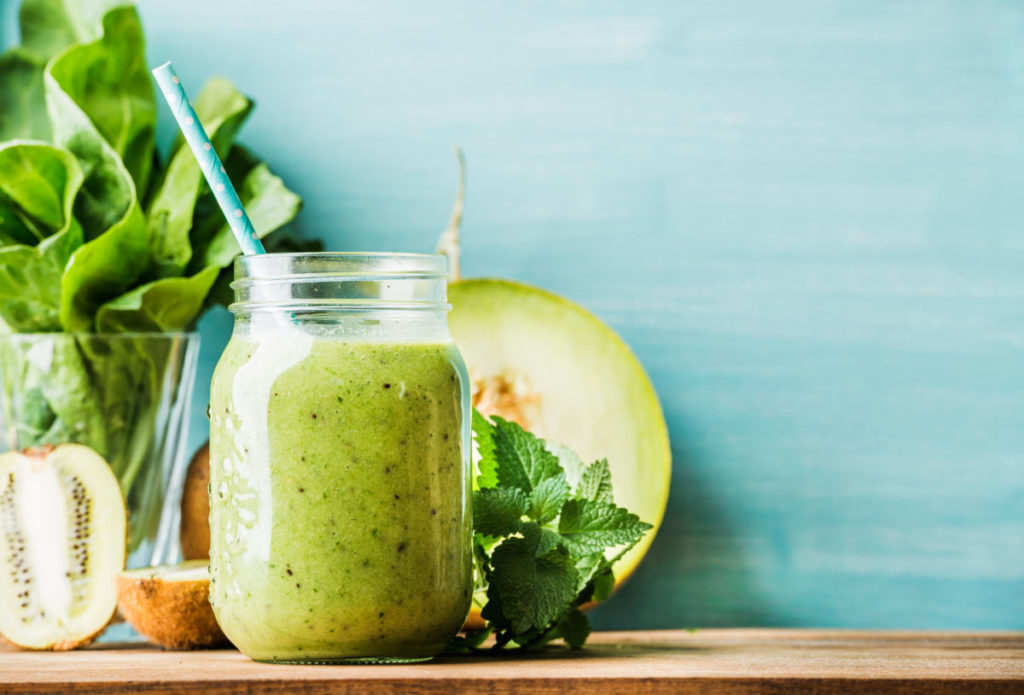 If you're looking for a tasty but healthy treat, this simple kiwi, mango and pineapple smoothie is perfect. And it's a great way to get some extra vitamins into your day! 
Ingredients: 3 peeled kiwi fruit, 1 mango, peeled, stoned, and chopped, 500ml pineapple juice, 1 banana, sliced.
Method: Put all the ingredients in a blender and blitz until smooth then pour into two tall glasses. Keep a slice of kiwi fruit back to garnish the inside of the glass or top with a sprig of fresh mint.
7. Cheat's ginger beer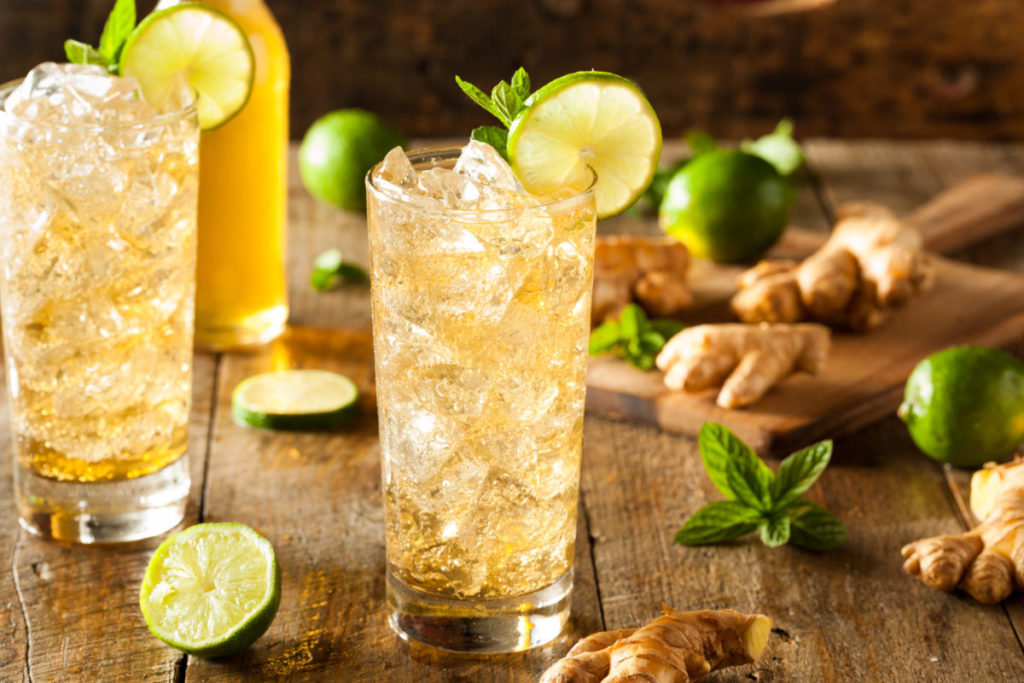 Warm and fiery, a jug of ginger beer makes a brilliant addition to summer barbeques. And the best thing is, you can make the ginger mixture in advance, pop it in the fridge, and simply add the lemonade or sparkling water when you're ready to serve.
Ingredients: 100g ginger (scrubbed and roughly chopped),1 lemon (chopped), 100g light muscovado sugar, 1-litre bottle chilled lemonade or sparkling water, to serve.
Method: Put the ginger and lemon in a bowl, pour over 300ml water and blitz with a hand blender until very smooth. Strain through a sieve into a bowl, then press the pulp to remove as much liquid as you can. Add the sugar to the bowl and blitz again. Decant into a bottle and chill until you're ready to use it. Add the chilled lemonade or sparkling water before serving.
8. Virgin cosmopolitan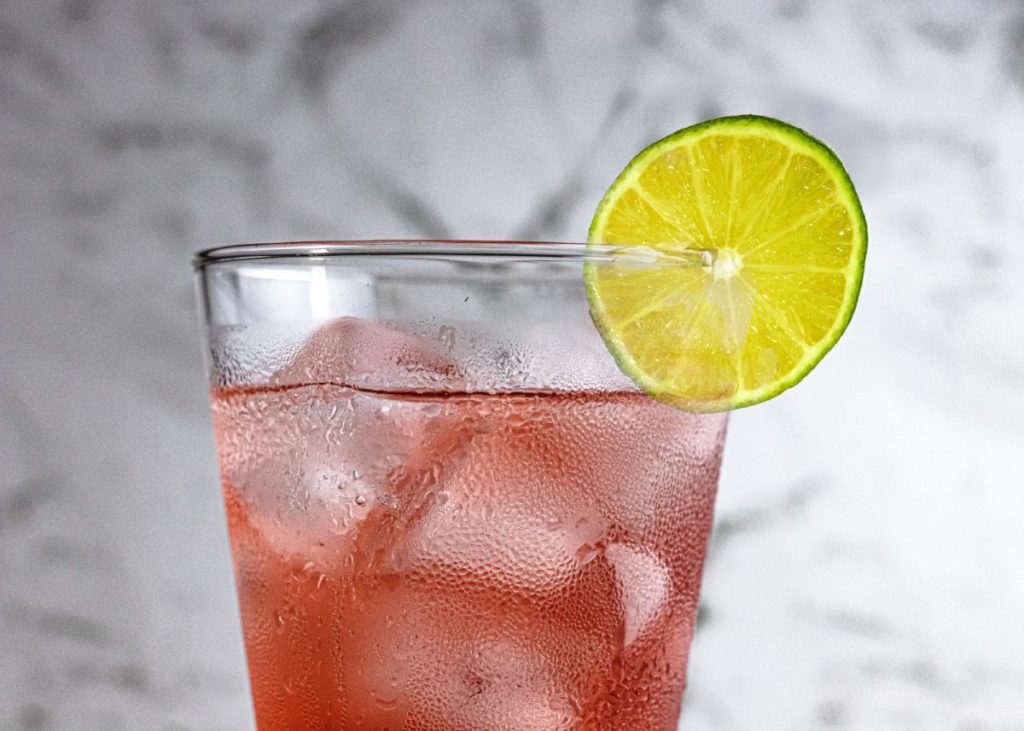 A simple alcohol-free version of the classic cosmo. Ideal for those summer garden parties! Or when you just want to embrace your inner Carrie Bradshaw…
Ingredients: 90ml cranberry juice, 30ml freshly squeezed lime juice, 60ml sparkling water, 30ml orange juice. 
Method: Pour the cranberry juice, lime, and soda in a cocktail shaker. Then, add plenty of ice and shake gently. Pour into a stylish martini glass, add a splash of orange juice and serve! You could also garnish with a lime – to make it extra fancy. 
9. Watermelon mojito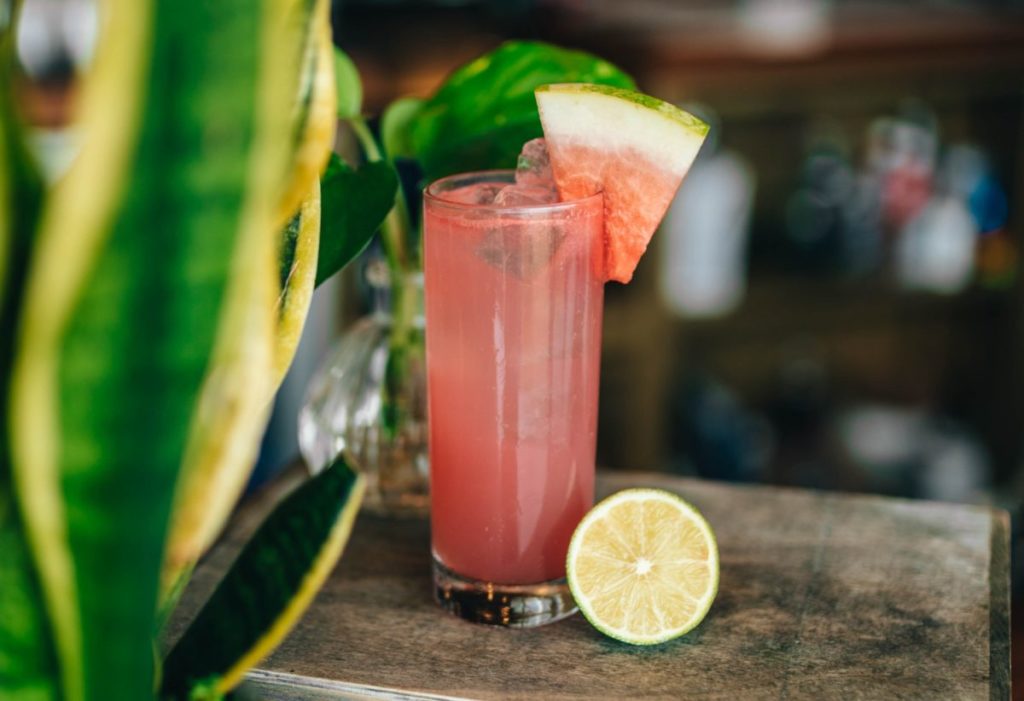 We all love a good mojito, especially on summer holidays. But have you tried a refreshing watermelon mojito? The mint and lime in this mocktail blend with juicy watermelon to make a super summer drink! 
Ingredients: 3 cups chopped watermelon, juice of 2 limes, 1½ tsp sugar, 4 fresh mint leaves, crushed ice, ginger ale, club soda.
Method: In a blender, mix watermelon, lime juice and 1 tsp sugar until smooth. In the bottom of each glass, combine 2 mint leaves with ¼ tsp sugar, then add the watermelon puree, until it's about half full. Add ice, a splash of ginger ale and top with club soda. Stir to combine. Garnish with mint sprig and watermelon slice.
10. Lemonade iced tea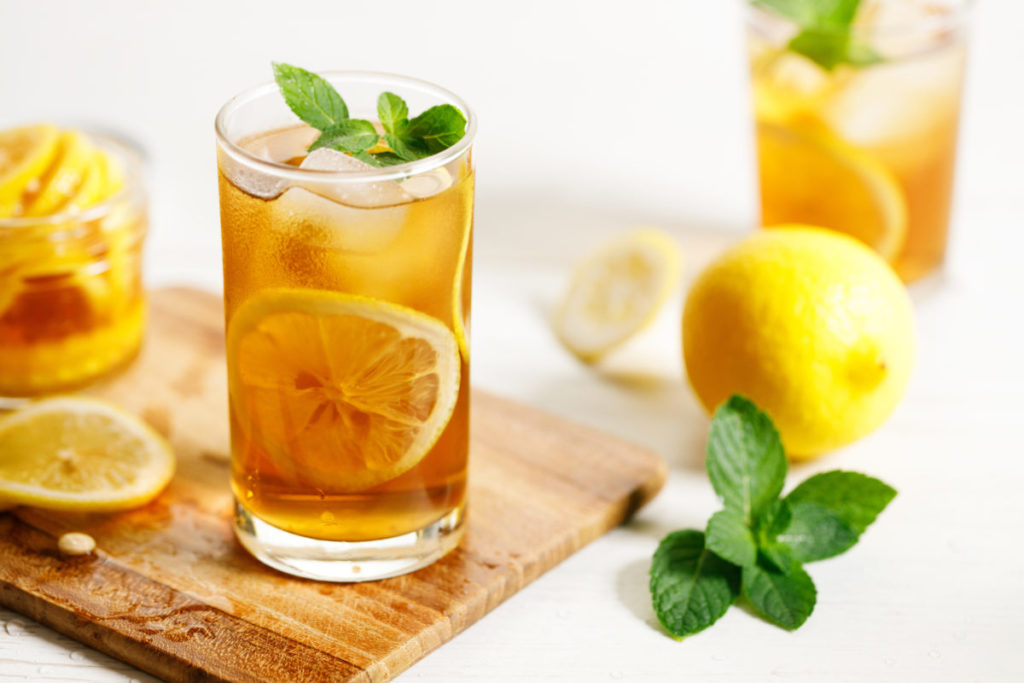 Need a delicious drink to cool you off on a hot day? You got it! Made with freshly brewed tea, lemon juice and syrup, you'll never buy ready-made iced tea again. 
Ingredients: 2 cups tea (English Breakfast works great), sliced lemons, 1 cup freshly squeezed lemon juice, 1 cup of syrup, 1½ cups water, ice, fresh mint (optional).
Method: Make a simple syrup with a 1:1 ratio of sugar and boiling water – stir until dissolved. Keep that separate for now, then make your tea with boiling water and allow to cool. Combine your lemon juice, syrup and water and stir to combine. Add your cooled tea to the mixture and stir. Finish off by adding a few slices of lemon and mint to taste.
And there you have it, plenty of delicious drinks to choose from for those long summer days ahead! We hope you enjoy them.