One year has now past since Dr Gillian Taylor was involved in the installation of a weather station at Fort Magna. It is not just a weather station but also monitors ground chemistry to help us understand seasonal changes. The data has been fascinating and watch this space for updates on conference presentations later in the year..
https://www.vanwalt.com/projects/soil-research-equipment-for-the-vindolanda-trust/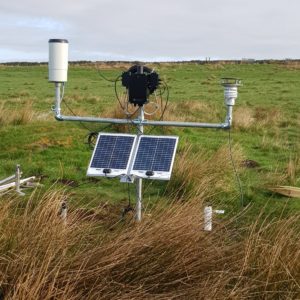 Not content with one weather stations, in April 2023, the team also installed a similar system, provided by Van Walt across the Vindolanda site, monitoring more chemistry, more conditions and importantly watching those anaerobic areas very carefully, as we all know by now, the anaerobic conditions are important for the preservation of artefacts.
There are two other blogs posts, whom have written about the adventures of putting in the new system, so enjoy the link
https://www.vindolanda.com/blog/monitoring-the-buried-archaeology-of-vindolanda
https://www.vanwalt.com/dubois/2023/04/17/whisky-and-paracetamol-when-the-customer-assists-in-a-multi-sensor-network-installation/
https://www.vanwalt.com/dubois/2023/04/23/whisky-and-paracetamolepilogue/