Introduction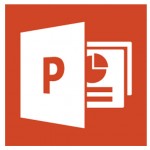 The latest version of PowerPoint has some very nice features that will help you create presentations that use video and audio. This article will look at the concepts of how PowerPoint now optimises and compresses audio/video. It will also quickly look at the different ways you can embed audio and video. It's not an in-depth technical "how to" guide but will hopefully give you a taste of what can be done.
If you're interested in exploring anything discussed here please feel free to contact the eLearning team and we'll be only too happy to help out.
Covered in this article:
Optimisation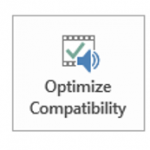 Audio and video can be "optimised". According to Office, this will provide a version that should (in theory) play across multiple devices/platforms. Audio is optimised using a technique called AAC (Advanced Audio Coding). Without wanting to get bogged down in technical details it makes files smaller by cutting out sounds we probably can't hear. (You can read more here: http://www.wisegeek.com/what-is-aac.htm).
Office claims this is probably the best format and can be played across a lot of different devices/platforms. To optimise audio, click on the File menu option and go to the Info page. Select Optimize. If there is no option then the audio has either been optimized or cannot be optimized for whatever reason.
Compression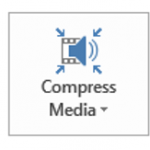 Both audio and video can be compressed. PowerPoint gives three options of quality: Presentation, Internet or Low Quality. Compression information can be accessed from the Info page (click on File in PowerPoint and Info is the first page that's displayed) and clicking on Compress Media. As a general guideline, Presentation is the best quality, Internet is middle and Low is…well, the lowest! It's a bit of trial and error depending on what your content is. If your audio is simply speech you can often get away with Low compression. The lower the quality, the lower the file size. So it's a bit of a compromise and the bottom line is how much quality you are prepared to sacrifice for a smaller file.
Adding Audio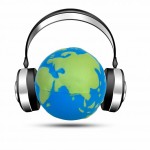 Audio can be added in many different ways in PowerPoint. The following covers the most common methods of inserting audio into your presentation.
Add audio from computer
If you've already recorded your audio outside of PowerPoint you can embed the audio as a file. Audio inserted can then be trimmed within PowerPoint. This is quite a nice feature as it gives  you some simple editing over your audio. For example, if you have recorded a lecture there might be a period at the beginning when people are coming into the lecture room and settling down. Audio can also be faded in or out – again, nice if you want to make some music gradually fade away. It certainly gives a more professional feel to your presentation.
On the downside, if you add an audio file that PowerPoint feels it should optimise, it will do this automatically for you. It doesn't ask you if you want the audio to be optimized.
Add audio from the Internet
PowerPoint gives you the option to insert audio from Office.com. You can search for sound clips which can then be downloaded into your presentation. I searched for a few random items (fanfare, speech, claps) and got mixed results. Some were good, some not so – but it's up to the individual. At the very least it's very quick to use and could certainly add a bit of variety to your presentation.
Add audio from a microphone
If you have a microphone, you can add audio directly onto a slide or over the entire presentation.
Onto a slide:
From the Insert option, selecting Audio and then Record Audio starts recording onto the slide you are on. There are no options for the quality of the audio, but once recorded you can always use the Compress Media options to adjust the quality.
Over the entire presentation:
From the Slide Show menu select Record Slide Show. You can narrate over the entire presentation. PowerPoint now automatically separates the audio up so when you move to the next slide, the audio is automatically placed on that slide. This means that your audio will now not go out of sync at a later date. It also means people can jump from slide to slide and the audio will start from the appropriate slide.
Adding Video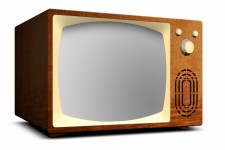 PowerPoint now comes with two options for inserting video: from online sources or from your computer.
Online Video
From the Insert menu, clicking in Video lets you choose Online Video. Selecting this will give you two choices – from YouTube or from an embed code.
Search within PowerPoint for YouTube videos
When you select the option to insert a video, you can search YouTube. This doesn't put the video into the presentation, but links to the YouTube video. As it's just linking the presentation file size remains small. The downside is you have to (a) have an internet connection to play it and (b) the YouTube video can be taken down if it is not your own.
Embed Video
Similar to the above, you can insert an embed code of an online video. Services like YouTube and Vimeo often provide an embed code which you can now put into your presentation to play the video. It looks like it's directly inside the PowerPoint presentation but it is in fact linking to the online video. As above, this requires an internet connection and for the video to be online.
Video on your PC
This will embed your own video into the presentation. Previously, PowerPoint would often create a link to the video. This could cause confusion as it appears that your video is played within PowerPoint, but in fact it's playing the video from a linked file somewhere on your computer. This results in two files: the PowerPoint presentation and the linked video. If you were playing the presentation from a different computer you would have to remember to copy the presentation AND the video and ensure they are stored in the same location as when you created the presentation.
Now it's much easier. The video is embedded into your presentation. This means that if you are delivering the presentation on a different computer you just need to take the PowerPoint presentation. This can make the presentation file very large, but Microsoft have thought of that. As with audio, there are options to compress the video (Presentation, Internet or Compressed quality). These can reduce the file size drastically, but the quality can be compromised. With a bit of testing you can find out the best compromise for you.
Conclusion
I've certainly found the new changes to be a massive improvement. The new audio compression is way better than previous versions of PowerPoint. The video embedding from on-line sources is much slicker than ever before. Previously you had to employ various tricks and tweaks to get a video to play directly in your presentation. Now it just works.
If you combine all this with the fact that it now bundles everything up into one file and I personally think this is a bit of a success story for Office!